CuraMed
120 capsules
CuraMed is produced with a unique and patented process that delivers a curcumin which is 8X more bioavailable than curcumin 95% and 7X more bioavailable than curcumin combined with piperine. Each capsule is equivalent to 4,000mg of curcumin 95% or 85,000mg of tumeric. Two to three capsules daily would equal the quantity used in the clinical studies. Because of its powerful antioxidant benefits combined with its anti-inflammatory action it is truly the most powerful solution to support the entire metabolic function. This proprietary complex provides enhanced bioavailability and sustained retention time in the body, using patent-pending technology
Recommendations: 1 softgel daily, up to 2 softgels daily may be taken.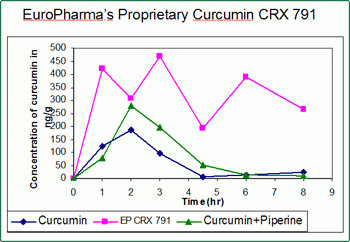 Supplement Facts
Serving Size: 1 Capsule
Ingredient / Amount per Serving / Daily Value
CuraMed Proprietary Complex 750mg **
Curcumin CRX 791 Micronized (Curcuma longa) Rhizome Extract, phospholipids, turmeric essential oils.
**Daily Value Not Established.
Other Ingredients: Medium chain tryglycerides, gelatin, glycerin, high phosphatidylcholine, lecithin, purified water, yellow beeswax. Contains Soy.
Natural Health Support of Anti-Inflammatory Action and Antioxidant Activity
Compare to these:
Reviews
Tuesday 22 March, 2011
A bit pricey, but considering it's increased bioavailability compared to other brands, well worth it.
Wednesday 30 December, 2009
Good product, one of the only of it's kind, and difficult to find.
---
Questions and answers:
Asked on:
March 31, 2013
Question: So what is the difference between this product and Curamin? I am not clear on the distinction.
A:

Curamin has a blend ...A unique combination `Proprietary Complex` (we don't break down the formula ) but we can say -combines ingredients with multiple mechanisms of action to support the body's natural anti-inflammatory response and relieve occasional muscle pain due to exercise and overuse - capsules.


Curamin extra strength ( tablets ) A unique combination `Proprietary Complex` take if you like tablets better than capsules and if you find you are taking more than 6-8 capsules of regular curamin.


CuraMed which is pure and highly absorbable curcumin and has no nattokinase in it so might be better choice for you.

Powerful Antioxidant - Healthy Inflammation Response* Equivalent to 7,500 mg of Curcumin 95%. Human studies have shown that it is 10 times or 1,000% more effective than curcumin 95%.


Most people start taking Curamed first andd then take Curamin.

Asked on:
January 18, 2015
Question: Does curated cause problems with platelets as mine are low anyway. Also does it have hormones which can affect ovarian Cancer. Thank you
Asked on:
August 3, 2015
Question: I'm currently trying my first bottle of Curamed instead of Lyrica my doctor prescribed. Will this help?
A: CuraMed is made with BCM-95 curcumin delivering 10 x more curcumin to the bloodstream than plain curcumin for fast and effective pain relief. BCM-95 has been used in 24 leading-edge published studies and is the only patented curcumin formula with turmeric essential oils. CuraMed supports a healthy inflammation response to all parts of the body as well as a powerful antioxidant. CuraMed contains only natural ingredients and contains no sugar therefore it is safe for diabetic patients and those that me be under a weight loss program. CuraMed is used by many who suffer from nerve pain, osteoperosis, arthritis pain, aching muscles, sprains and strains without the side effects of prescription drugs.
Explore More Products