Working...
Pioneer, Pollen Relief Plus to Pollen Relief Plus
The following resources explore in depth through health guides, related materials and important information.Pollen Relief Plus & Pollen Relief Plus
Launched in 1984 in by naturopathic professionals with the goal of becoming a leader in the industry in gluten-free formulas. Pioneer's most popular products include vitamin/mineral supplements (both encapsulated and chewable) and calcium/magnesium products.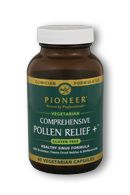 Pioneer
Clinically formulated for people with sensitivities to pollen, dust and dander. Healthy Sinus Formula with Butterburr, Eyebright, freeze dried Nettles and Bioflavanoids.
Now displaying products 1.) Pollen Relief Plus through 1.) Pollen Relief Plus out of 1 total.
1. Statements and claims on Seacoast.com have not been evaluated by the FDA and are not intended to treat or diagnose any ailment or disease.