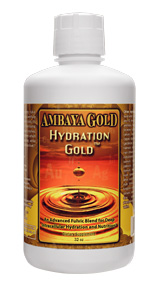 Full price 22.95
Savings 37%
Hydration Gold (8oz)
This product has been discontinued.
Seacoast recommends an excellent replacement. Click here.

Sorry! This item has been discontinued. See below.
Ambaya Gold
Hydration Gold
Hydration Gold is a unique energizing formula designed to naturally hydrate and renew your body and mind. A powerful combination of Monatomic Fulvic with Monatomic minerals, stabilized Oxygen, trace elements and amino acids, you'll be amazed at the power in this formula.
Proper Hydration and Oxygenation is of critical importance to maintain our optimal health. Just one teaspoon in the morning and one in the evening (mixed with filtered water) and most will immediately feel more alive with more energy, mental focus, and clarity.
Benefits may include:
Deep Intracellular Hydration
Increased mental clarity
Improved physical performance
Enhanced nutrient transport and absorption
Help with healthy weight management
Increased cell to cell communication
Improved grounding and fuel for body's electrical system
Support for Balanced PH
Suggested Use: Add 1 and 1/2 tsp to 8 oz of water and drink in the morning.
SUPPLEMENT FACTS
Serving Size 1.5 teaspoon (7089 mg)
Servings Per Container 32
Amount Per Serving
% Daily Value
Molybdenum
255 mcg
340%
Potassium
500 mg
10%
Propietary MonAtomic
3935 mg
Fulvic Blend

Fulvic Acid

**

MonAtomic Gold

**

MonAtomic Indium

**

L-Arginine

**

Methylsulfonylmethane (Pure MSM)

**

Alpha Lipoic Acid

**

Stabilized Oxygen Concentrate

**

Fructo-Oligosaccharides (from Chicory)

**
Compare to these:
Explore More Products