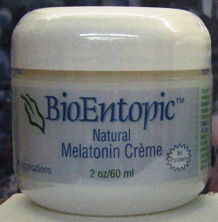 Full price 19.99
Savings 17%
Melatonin Cream ( 2 oz )
| | |
| --- | --- |
| | Sorry! This item has been discontinued. See below. |
This product is no longer available from the manufacturer.
You may wish to try the products from Libido Edge Labs, which are thoughtfully formulated from high quality ingredients.
Melatonin is a hormone naturally produced and stored in the pineal gland at the base of the brain and maintains the biological clock of the body, which in turn creates deep restorative sleep. As the eyes sense darkness they signal the hypothalamus gland to trigger the pineal gland to release melatonin into the system. This is what regulates sleep patterns. Generally in healthy adults the pineal gland releases about 5 to 25 micrograms of melatonin per night. With age, these melatonin levels decline dramatically creating a disruption with sleep. Studies have shown that when sleeping is a problem, melatonin supplements may promote normal sleep and body rhythms.
Research shows extremely high amounts of melatonin are safe however, only very small amounts are needed. When it comes to melatonin less is more. Start with a small amount and increase as needed. Too much melatonin has shown to create vivid dreams that may be disruptive to sleep. As a rule, melatonin should be used once a day about 1/2 hour before normal sleep time but every other day or maybe twice a week may work just as well. The amount of melatonin and how often varies with each person.
Studies have also shown if a certain dosage of melatonin has been effective for a period of time then begins to lose its effectiveness, it may be because the body has become tolerant to the melatonin. When this happens simply discontinue the melatonin all together instead of increasing the amount. Then after a week or two, go back to using the same amount of melatonin.
For travelers crossing multiple time zones, melatonin may help eliminate jet lag. Timing is critical so carefully calculate the normal sleep time for your destination. On the day of travel take melatonin based on destination bedtime. After arrival, continue using melatonin 1/2 hour before sleep time for three to six days or until normal sleep pattern is accomplished.
Women who are pregnant, lactating or attempting to become pregnant should not use melatonin.
Each 1/8 teaspoon of BioEntopic™ Melatonin Crème provides 1 mg of natural bio-identical micronized melatonin USP.
Not to be used during pregnancy or lactation. Consult a health professional. No animal products or by-products are used in the manufacturing. No animal testing.
Manufactured by BioCentric Laboratoriesä Inc.
*Not intended to diagnose or treat diseases or ailments, and is not reviewed by the FDA.
Uses & Indications.
Achieving Regular Satisfying Sleep
Restoring Routine Sleep Pattern
Ailments & Concerns.
Travel
Sleep Deprivation
Et Lag
Restlessness
Insomnia
Compare to these:
Explore More Products