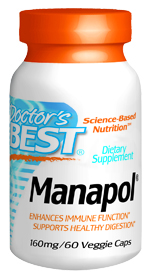 Full price 44.99
Savings 58%
Manapol (160mg 60 vegi capsules)
This product has been discontinued.
Seacoast recommends an excellent replacement. Click here.

Sorry! This item has been discontinued. See below.
Doctor's Best - Science Based Nutrition
Manapol
Manapol® is a pharmaceutical-grade, patented product from the inner leaf gel of the Aloe vera L. plant that enhances the immune system and provides nutritional benefit for digestion.* The name derives from the mannose polysaccharides found in fresh Aloe gel. Manapol® is produced only from the beneficial inner gel of the Aloe plant to maximize the amount of polysaccharides present in the final product. The unique manufacturing process of Manapol® preserves the glyconutrients, or polymeric polysaccharides, in their freshest, most natural state. Manapol® contains a high level of these polysaccharides, ensuring a product that has significant supportive effects for the body's immune system. Studies suggest that the glyconutrients contained in Manapol® enhance immune function and promote digestive health.*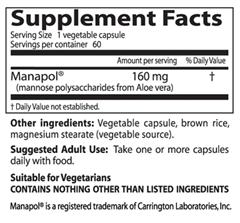 Transparent gel from the pulp of the meaty leaves of Aloe vera has been used topically for thousands of years to treat wounds, skin infections, burns, and numerous other dermatologic conditions. Dried latex from the inner lining of the leaf has traditionally been used as an oral laxative.
There is strong scientific evidence in support of the laxative properties of aloe latex, based on the well-established cathartic properties of anthroquinone glycosides (found in aloe latex). However, aloe's therapeutic value compared with other approaches to constipation remains unclear.
There is promising preliminary support from laboratory, animal, and human studies that topical aloe gel has immunomodulatory properties that may improve wound healing and skin inflammation.
Compare to these:
Explore More Products