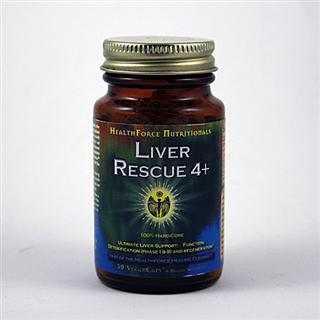 Full price 21.95
Savings 27%
Liver Rescue 4 plus (30 vegan capsules)*
| | |
| --- | --- |
| | |
| | Sorry! This item has been discontinued. See below. |
New Version- Liver Rescue 4+
You Only Have One Liver And You Can't Live Without It!
Keeping the liver healthy is essential to good health. And most people's livers are quite challenged and weakened with a toxic overload. One of the liver's functions is to filter toxic materials from the blood, and if it is not functioning at optimum levels, your health is compromised.
Poor dietary choices, alcohol use, over the counter drugs/medications, etcetera can cause liver stress. Milk Thistle can help the liver because it nutritionally supports its functioning. It can help to increase the flow of bile (which emulsifies fats and is an avenue that the liver uses to dump poisons and wastes into). When the liver is toxic, it dumps toxins into your colon via bile. Then, if you colon is toxic, (which almost everyone's is) these toxins get reabsorbed into the blood stream and much of them are sent back to the liver, and then back to the colon via bile, and then back to the liver, etc. We suggest having doing a colon cleanse and eating healthfully to support both colon and liver health.
The more toxic your colon and liver are, the more you need Liver RescueÃÃ
Compare to these:
---
Questions and answers:
Asked on:
January 2, 2013
Question: MCJ306 http:www.fPQjf5L1k4uezXLpn7vdDKCRAYccFk0V.com
Explore More Products