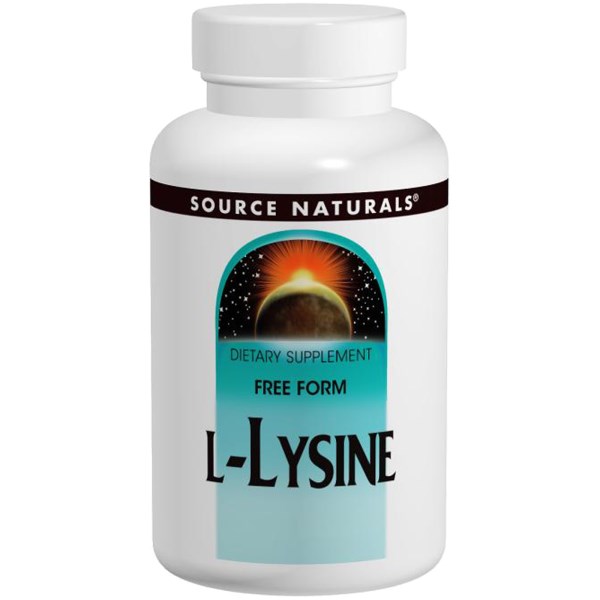 Full price 21.98
Savings 30%
L-Lysine | 500mg | 250 tabs*
price

Price is

too low

to show. Add it to your cart

Buy 3 - Get free delivery on whole order
250 tabs
L-Lysine by Source Naturals is an effective supplement of an essential amino acid that works to improve the body's overall health. L-Lysine cannot be produced in the body, which means that it must be ingested through diet and supplementation. Amino acids are the building blocks of protein in the body and are required for healthy metabolism and energy production. L-Lysine helps the body produce carnitine, which is an important nutrient that causes the body to convert fatty acids into energy. It also helps to reduce dangerous cholesterol levels. L-Lysine works to help the body absorb calcium more efficiently while improving bone health. It also serves a valuable purpose in stimulating collagen production, which is crucial for the health of connective tissues such as skin, tendons, and cartilage.
Lysine deficiencies can be fairly rare as most people consume enough L-Lysine in their diet to remain healthy. However, there are certain groups of people who may suffer from a Lysine deficiency due to insufficient nutrition in their diet. Sometimes vegetarians may experience a Lysine deficiency as well as those whose diet largely consists of baked goods and cereals. Some athletes who regularly participate in vigorous exercise could experience a Lysine deficiency. A Lysine deficiency could present itself with the symptoms of fatigue, dizziness, nausea, loss of appetite, agitation, bloodshot eyes, reproductive disorders, anemia, and slow physical growth. L-Lysine improves healthy metabolism, lowers cholesterol, supports healthy connective tissues, and improves bone health. It can be taken to help relieve osteoporosis. It has also been shown effective in helping to treat and relieve mouth or genital lesions caused by the herpes virus. Always consult with your physician before taking any new medication or supplements.
Benefits:
Amino Acid Supports Metabolism
Lowers Cholesterol
Improves Bone Health
Supports Healthy Connective Tissue
Suggested use: 1 to 2 tablets daily.
Ingredients:
L-Lysine (HCI) 500 mg
Other Ingredients: Sorbitol, stearic acid, modified cellulose gum and magnesium stearate.
Suitable for vegetarians.
Contains no yeast, dairy, egg, gluten, soy, wheat, sugar, starch, salt, preservatives, or artificial color, flavor or fragrance.
*Not intended to diagnose or treat diseases or ailments, and is not reviewed by the FDA.
Uses & Indications.
Improves Energy Levels
L-Lysine Is Crucial To The Formation Of Collagen
Supports Health Metabolism
Ailments & Concerns.
Osteoporosis
Fatigue
Skin Lesions
Poor Metabolism
Compare to these:
---
Questions and answers:
Asked on:
November 26, 2012
Question: The second lendiag supplement after lysine is an herbal cream: MelissaWhen you first feel the tingling that announces a cold sore, apply melissa to the affected area. Made from the powerful antiviral herb Melissa officinalis, or lemon balm, melissa cream helps sores heal more quickly and may also prevent recurrences. As an alternative you can prepare a melissa tea, by steeping 2 to 3 tablespoons of the herb in a cup of very hot water for 15 minutes. Once the liquid has cooled, apply it externally to the cold sore using a cotton ball. Self-Care RemediesApplying ice to a cold sore for a few minutes several times a day eases pain and helps dry out the sore. Wrap the ice in a moist washcloth before applying it. Compresses made with the herb hyssop can be directly applied to the cold sores. Make an infusion solution by using one ounce of dried herb per pint of boiling water. Steep for 15 minutes and allow to cool before using. To avoid spreading the virus, don't touch active blisters and don't share personal items such as drinking glasses, toothbrushes, razors, or towels. If you are prone to cold sore outbreaks, always apply sunscreen (SPF 15 or higher) to your lips before going out into the sun. The amino acid arginine is thought to play a role in reactivating the cold sore virus. To prevent recurrences, avoid chocolate, nuts, whole-grain cereals, and gelatin, which are all rich in arginine. Eat more kidney beans, split peas, and corn, which are rich in lysine. Yoga, meditation, and other mind-body techniques help relieve stress, a possible cold sore trigger. Do not pick or squeeze a cold sore blister or scab. This can cause it to spread and impede the healing process. Keep lips moisturized at all times by using a lip balm. Dry, chapped, or cracked lips can be more susceptible to an outbreak. What causes cold sores?when the immune system is weakened by a cold or fever. New outbreaks can recur as frequently as every few weeks or as rarely as every few years. Other factors that can reactivate the cold sore virus include fatigue, stress, menstruation, and exposure to sun and wind. High blood levels of the amino acid arginine allows the cold sore virus to thrive arginine is present in large amounts in chocolate, nuts, whole-grain cereals, and gelatin.On the other hand, eating foods high in another amino acid, lysine, (corn, kidney beans, split peas) may drive down levels of arginine.
Asked on:
March 27, 2013
Question: where in singapore can i purchase the above mentioned item? awaited yr prompt reply.
A: I am not aware of where you can purchase this supplement locally in Singapore however you can purchase this supplement online directly from Seacoast.com as we do ship internationally.
Asked on:
June 9, 2013
Question: I am a vegetarian. Where is your lysine sourced--made in a lab, from an animal, etc.
Asked on:
May 5, 2016
Question: Are l-lysine chewable tablets
A: L-Lysine comes in a non-chewable tablet, capsule and powder form. If you are looking for a chewable form it would be best to use the powder. The powder can easily be added to water or your favorite drink. We would suggest L-Lysine Powder (1lb) Now Foods for $15.22 http://seacoast.com/L-Lysine-Powder-NOW-Foods-1-lb.p8857
Explore More Products