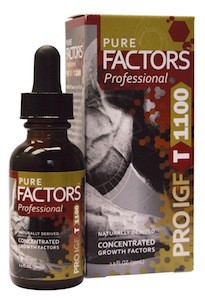 Full price 199.95
Savings 17%
Pure Factors Pro IGF T 1100 (30 ml)
| | |
| --- | --- |
| | Buy 3 - Get free delivery on whole order |
Human Growth Hormone production decreases as we age, and thus, so does our production of vitality promoting Growth Factors. These naturally occuring Growth Factors play vital roles in:
Aging
Immune Support
Bone Density
Joint/Connective Tissue
Endurance
Recovery
Fat Loss
Repair
Muscle Growth/Support
Libido/Sexual Function
Stress Reduction
Energy
Pure Factors Pro IGF T1100 is a high potency extract of these naturally occurring Growth Factors.
Pro IGF T1100 is specifically designed to give your body the raw material to regenerate and enhance growth of muscle tissue in a rapid fashion. The molecularly bonded proteins and regulating compounds in Pro IGF T1100 enhances the performance of any type or level of athlete.
Introduction to Human Performance PURE FACTORS
The Human Performance Matrix in PURE FACTORS ULTIMATE, EXTREME & PROFESSIONAL are derived from some of the most potent raw materials. These powerful raw materials are delivered with an Anabolic Surge. Now you can actually feel the absorption and muscle activation taking place. These powerful all naturalmaterials have over 60 active constituents that can boost strength, size, recovery, halt muscle breakdown, protect immune system, joints and melt fat away with out the loss of hard earned lean muscle mass.
Now you can achieve a full spectrum of all natural human performance enhancements with the Human Performance Matrix found in PURE FACTORS ULTIMATE, EXTREME & PROFESSIONAL.
What does the enhanced bioactive delivery system of Tribulus and Organic Grape Alcohol do?
The Tribulus Terrestris in the new delivery system is used to regulate Luteinizing Hormone and Follicle-Stimulating hormone thus regulating the production and release of sex hormones (Testosterone, DHEA, Estrogen, Estrodiol). Tribulus has been clinically proven (Pak. J. Pharm. Sci., Vol.23, No.1, January 2010, pp.59-62) to raise Glutathione and Super Oxide Dismutase, which are master antioxidants that stop DNA from breaking down (thus halting the aging process). Glutathione is a chief source of energy. It releases stored fat and helps with the utilization of sugar (enhance fat loss or metabolism and cleansing the liver). Glutathione also plays a major role in protein absorption and utilization, which will help the proteins from the Velvet Antler Extract and from what you eat to absorb at greater rates. There are over 80,000 medical studies proving Glutathione application in at least 69 diseases or illnesses. Organic Grape Alcohol is the second part of the delivery system and is used to enhance the bioactivity and the life span of the Tribulus and Velvet Antler Extract. Organic Grape Alcohol uses no corn or grain and is made from 100% organically grown grapes.
Why PURE FACTORS utilizes oral delivery
Nutrients after they are consumed begin to lose their bio-available potential through several steps along the digestive process within the body. Beginning with digestive enzymes in the mouth, gastric acids in the stomach, additional digestive processes in the intestines and finally through processing in the liver that alters the molecular structure of the nutrients we ingest. This process will leave less than 10% of the total bio-available nutrient to be utilized within our bloodstream. Growth factors specifically are highly susceptible to the harsh digestive processes. It is not possible for the molecular structure of a growth factor to survive this series of degrading actions, thus a sublingual delivery mechanism is necessary in order to properly deliver growth factors in a bio-available form. Sublingual delivery bypasses these processes and delivers the unaltered products directly to the blood stream keeping all the constituents 100% bioactive. This also provides no stress on the liver to filter and metabolize these active constituents.
Supplement Facts
Pro IGF T 1100
Serving Size: 30 drops
APS
%DV
Human ProFormance Matrix
62.6 mg*
Proprietary Bioactive Velvet Antler Extract (VC 43x)
37.6 mg
Bioactive Tribulus Terrestris Extract
(Size, Strength, Speed) Pro-Anabolic Matrix:
Steroidal Saponins, Puncture Vine, Aerial Parts and Fruit, Dioscin, Diogenin, Protodioscin, Cervus elaphas (VC 43x)
Muscle Activation Transport and Delivery System Ã

*Not intended to diagnose or treat diseases or ailments, and is not reviewed by the FDA.

Uses & Indications.

Promoting Recovery
Enhancing Athletic Performance
Building Lean Muscle

Ailments & Concerns.

Aging
Fatigue
Hormone Imbalance

Compare to these:




---

Questions and answers:

Asked on:

February 11, 2013

Question: Does this product have deer antlers velvet in it

A: This product does have Proprietary Bioactive Velvet Antler Extract in it.

Asked on:

February 14, 2013

Question: I live north of brisbane in queensland australia. Where can i purchase this product.

A: I am not aware of the availability of this product in Queensland however you can purchase this product online at Seacoast.com. using the following link.

Asked on:

February 22, 2013

Question: What store has it?What store had it

A: I am not aware of what stores currently or previously sold this product. Due to the high popularity of this product, we are currently out of stock but will be receiving a new shipment next week.

Asked on:

February 26, 2013

Question: Hi, hep c with induced Liver person could use the The Pure Factors IGF T 1100 as this product is not reviewed by FDA Thanks

A: Please consult with your physician to see if this product will be ok for you to use. As with any supplement it is always best to speak to a medical physician when you have any medical conditions and are wanting to take new supplements.

Asked on:

March 12, 2013

Question: WHAT TIME OF THE DAY IS BEST TO TAKE THIS PRODUCT

A: Time of day to take this supplement is not indicated so its usually taken when convenient to the consumer. You may want to test taking this supplement at different times in the day to see which time you like best.

Asked on:

April 11, 2013

Question: I'm 16 can I take it

A: Most supplements unless indicated otherwise are for adults 18 and over. Please consult with your physcian to find out if they recommend you taking Pro IGF.

Asked on:

August 20, 2013

Question: Do you swallow the drops after the 90 seconds or do you spit it out?

A: These drops are to be swallowed.

Explore More Products




1. Statements and claims on Seacoast.com have not been evaluated by the FDA and are not intended to treat or diagnose any ailment or disease.