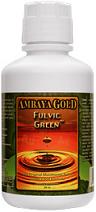 Full price 34.95
Savings 10%
Fulvic Green ( 1 pint )*
price

Price is

too low

to show. Add it to your cart

Buy 3 - Get free delivery on whole order
Ambaya Gold
Fulvic Green
Fulvic Green is a unique liquid concentrate of an Activated Monatomic Fulvic base with all-natural Hawaiian Spirulina. This powerful combination provides the natural healing benefits of Fulvic Acid with Spirulina's incredibly rich blend of proteins, amino acids, vitamins, and minerals. It has a smooth taste and provides a great boost to the day.
Benefits may include:
Increased energy and physical performance
Increased mental clarity
Enhanced nutrient transport and absorption
Help with healthy weight management
Increased cell to cell communication
Improved grounding and fuel for body's electrical system
Support for Balanced PH
Rich in Anti-Oxidants
Natural mild cleanse and detox
Uses ORME Energy Technology™ for maximum uptake and usage by the body
Suggested Use:Take 1 teaspoon (or more as desired) in 6 – 8 ounces of water twice daily. Shake before serving. Refrigerate after opening.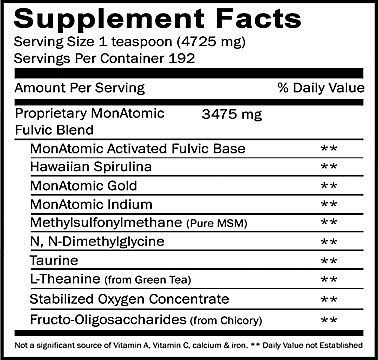 Other ingredients: purified bio-photon restructured water, plant-based enzyme phytonutrients, and 83 minerals, elements and amino acids - antimony, barium, beryllium, bismuth, boron, bromine, cadmium, calcium carbonate, carbon, cerium, cesium, chloride, chromium, cobalt, copper, dysprosium, erbium, europium, fluorine, gadolinium, gallium, germanium, gold, hafnium, holmium, indium, iodine, iridium, iron, lanthanum, lithium, lutetium, magnesium, manganese, molybdenum, neodymium, nickel, niobium, osmium, oxygen, palladium, phosphorous, platinum, monatomic potassium, praseodymium, rhenium, rhodium, rubidium, ruthenium, samarium, scandium, selenium, silicon, silver, sodium, strontium, sulfur, tantalum, tellurium, terbium, thorium, thulium, tin, titanium, tungsten, vanadium, ytterbium, yttrium, zinc, zirconium, alanine, glutamic acid, glycine, histidine, isoleucine, leucine, methionine, phenylalinine, serinine, threonine, tryptophan, valine.
*Not intended to diagnose or treat diseases or ailments, and is not reviewed by the FDA.
Uses & Indications.
Increased Energy And Physical Performance
Healthy Weight Management
Natural Mild Cleanse And Detox
Ailments & Concerns.
Compare to these:
Explore More Products