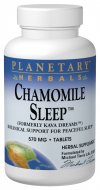 Full price 32.98
Savings 30%
Chamomile Sleep (120 tablets)*
Planetary Herbals
Chamomile Sleep (120 tablets)
Chamomile Sleep
Compare to these:
Reviews
Wednesday 29 February, 2012
I found that i got a burst of energy from this product i didnt feel sleepy at all.
---
Questions and answers:
Asked on:
January 13, 2013
Question: If your friend isn't slenipeg in over 24 hours that is a serious thing and should probably be treated by a doctor. The body isn't meant to stay up that long so either your friend is taking something to keep them up that long (too much caffeine, drugs or something) or there is an imbalance in brain chemistry. Again, you should see a doctor about that.As far as natual things for sleep Make sure your friend doesn't exercise 2 hours before bed time. Make sure that they are going to bed and waking up at about the same time every day. The body has rhythms that it likes to keep and this will help the body to know when is shut down and wake up time. No stimulants before bed like caffeine, reading a book, watching TV or a scary movie.Lavender essential oil helps to promote relaxation. A few drops sprinkled on the pillow case usually does the trick, or a few drops in a warm bath before bed. Supplements like melatonin help (in very small doses) as does valerian root.
Explore More Products