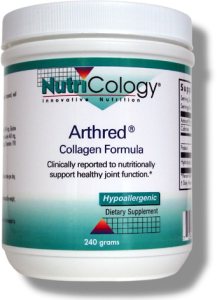 Full price 35.64
Savings 25%
Arthred Collagen Formula (240 grams powder)
| | |
| --- | --- |
| | Buy 3 - Get free delivery on whole order |
Allergy Research Group - NutriCology
Arthred® Collagen Formula (240 grams powder)
Clinically reported to support joint function and is well researched.* Arthred is hydrolyzed (predigested for better absorption) powdered collagen (bovine source) to support the production of healthy joint tissue (connective tissue).* Connective tissue is present in varying degrees in every cell of the body. May be used in combination with Connection Item #52050, as collagen and elastin in the proper ratio are important for membrane fluidity, elasticity and memory within joint tissues.*
Suggested Use:
As a dietary supplement, mix 2 level scoops (2 tablespoons) of powder into 8 oz. of juice, water or sports drink one time daily, or as directed by a healthcare practitioner.
Supplement Facts
Serving Size 2 scoops (approx. 10.5 g)
Servings per container 22
Amount per serving:
Calories 40
Protein 10 g
Hydrolyzed Collagen 10.5 g
Other Ingredients
Amino Acid Composition - Each serving provides: Alanine 890 mg, Arginine 815 mg, Aspartic acid 635 mg, Glutamic acid 1045 mg, Glycine 2260 mg, Histidine 190 mg, Hydroxylysine 100 mg, Hydroxyproline 1090 mg, Isoleucine and Leucine 460 mg, Lysine 335 mg, Methionine 90 mg, Phenylalanine 190 mg, Proline 1535 mg, Serine 325 mg, Threonine 190 mg, Tyrosine 80 mg, and Valine 300 mg.
Notes:
Keep in a cool, dry place, tightly capped. This product is packaged by weight, not volume. Some settling may occur.
*Not intended to diagnose or treat diseases or ailments, and is not reviewed by the FDA.
Uses & Indications.
Promoting Growth And Repair Of Healthy Connective Tissue
Supporting Joint Function
Ailments & Concerns.
Compare to these:
---
Questions and answers:
Asked on: November 27, 2012
Question: Nicki, thanks for the repsnose. My curriculum is slightly different from yours. My day 1 workout is either 3 rounds or 5 rounds depending on strength and conditioning of 5 ring rows, 10 pushups, 15 squats. So it's a very different volume of ring rows pullups. Historically, I was doing 5 pullups, 10 pushups, 15 squats, and using rubber band assistance for the pullups and we had them doing knees-to-elbows and jumping PU to begin conditioning the hang and connective tissues (not on Day 1, but in the first 3 days warmup).I like training hip activation ASAP, just like the squat, so on Day 2 I teach kettlebell swings. I love this progression of squat - kettlebell swing, because it reinforces the posterior chain action and much of the squat mechanics, and gives us the clearest measure of just how muted their hip function is. It also gives us what I think is the best treatment for this muted hip function. So day 2 3 rounds of 200 meter run, 15 kettlebell swings, 10 knees-to-chelbows. (Then we go to deadlift and press on Day 3.)Even with that low volume (3 5) of ring rows, I've had people who I'm not sure could have handled much more. However, maybe I should consider increasing the number of ring rows on Day 1, something like:3 rounds for time,9 pushups12 ring rows15 squats(totaling 36, the same volume you're using, albeit without the run)(On the pushups, about 70 of the women are elevating their hands onto a bench 24 box tire, as I require a full plank position so no pushups-on-the-knees.)Looks good Cash! I think the important thing to keep in mind is that however low the day 1 volume is it may still be too much for some folks. Being able to discern when someone is failing and then modifying their volume down is key! I think Rutman used to say something to the effect of stimulate, don't annihilate

Asked on: December 8, 2012
Question: can it cause elevated blood pressure

Asked on: May 21, 2013
Question: please give information on collagen peptide and its benefit.

Explore More Products