Working...
Coromega, Coromega Lemon-Lime Flavor to Coromega w/ Hint of Chocolate
The following resources explore in depth through health guides, related materials and important information.Coromega w/ Hint of Chocolate & Coromega Lemon-Lime Flavor
Coromega produces the finest molecularly distilled deep water fish oil. Farming is done sustainably and the distillation process ensures no mercury, PCBs or heavy metal contaminants. It's safe for adults and children to use everyday.
Coromega molecularly distilled fish oil is in a non gelatin base, and is easy to transport. Coromega comes in flattering flavors, and will not leave a fishy aftertaste, or give you the dreaded "fish-burbs." Pack a few in your purse or briefcase for a little treat during the day.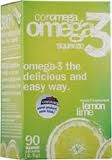 Coromega
Lemon-lime flavored Coromega features an essential blend of fatty acids and vitamins, working to improve flexibility, brain and heart health, and energy levels. The easiest and tastiest way to take Fish Oils. On the go travel packs.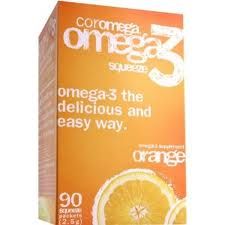 Coromega
Coromega orange flavor is a delicious non gelatin based fish oil supplement, offering Omega-3 fatty acids that contribute to concentration and focus, as well as reduce the risk for heart attack and alleviate pain from arthritis.

Coromega
Coromega Omega-3 fatty acids help build strong bones and a healthy nervous system, while improving focus and overall health. Great tasting orange flavor with a hint of chocolate.
Now displaying products 1.) Coromega Lemon-Lime Flavor through 3.) Coromega w/ Hint of Chocolate out of 3 total.
1. Statements and claims on Seacoast.com have not been evaluated by the FDA and are not intended to treat or diagnose any ailment or disease.