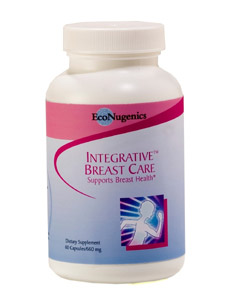 Women's Longevity Integrative Breast Care Formula (60 v-caps)
| | |
| --- | --- |
| | Sorry! This item has been discontinued. See below. |
EcoNugenics
Women's Longevity Integrative Breast Care Formula (60 v-caps)
Integrative Breast Care provides comprehensive, targeted nutritional support for women with a family history of breast health concerns. Women's Longevity IBC may help promote a stronger immune function in women who are being treated for breast cancer.
Promotes breast health
Provides cellular support
Supports healthy immune function
Promotes hormonal modulation*
Integrative Breast Care contains more than 40 different herbs, vitamins, minerals and nutrients that are combined according to both the insights of traditional Chinese medicine and the latest scientific studies. The formula includes vitamin A, and vitamin C, which have been shown to work synergistically to inhibit aberrant breast cell growth. Low dietary vitamin C, vitamin E, and selenium are associated with increased risk of unhealthy cellular growth. Vitamin D3 and vitamin E have been shown to support healthy cellular growth.
Vitamin A, selenium, coenzyme Q10, and DIM (diindolylmethane) have each been shown to enhance the effectiveness of traditional therapy in breast cell growth control. The role of trace elements, such as zinc and selenium, have been linked to healthy breast cell growth. The effect of quercetin and indole-3-carbinol have both shown an antiproliferative effect on breast cells.
Integrative Breast Care also incorporates the results of the latest research in phytochemicals into the formulation. The phytochemicals and other components are integrated with and balanced by traditional herbal medicines in the Antioxidant and Cellular, Longevity and Breast Health, Energy and Rejuvenation Proprietary Blends, which have been in continuous clinical use for the maintenance of breast health.
Suggested Use:
As a dietary supplement, take 2 capsules in the morning with a meal. For women with active concerns about breast health: 3 capsules twice daily, morning and evening, with a meal.
Vitamin A (as beta-carotene) 5000 IU 100%
Vitamin C (as magnesium and calcium ascorbate) 75 mg 130%
Vitamin D3 (as cholecalciferol) 200 IU 50%
Vitamin E (as d-alpha tocopherol succinate) 50 IU 170%
Zinc (as orotate, and picolinate) 15 mg 100%
Selenium (as L-selenomethionine) 75 mcg 110%
Antioxidant and Cellular Protection Proprietary Blend 255 mg
(Turmeric rhizome extract, garlic bulb deodorized extract, milk thistle seed extract, green tea leaf extract, cat's claw bark extract)
Longevity and Breast Health Proprietary Blend 135 mg
[Red clover leaf and flower extract, hedyotis leaf extract, heal all herb extract, barbed skullcap herb extract, reishi mushroom (Ganoderma lucidum), Job's tears seed, umbellatus mushroom (Polyporus umbellatus), peach seed extract]
Energy and Rejuvenation Proprietary Blend 30 mg
[Rehmannia root extract, astragalus root extract, Asian ginseng root extract, bai-zhu atractylodes root extract, cassia bark extract, dong quai root extract, ginger root extract, licorice root extract, poria mushroom extract, Sichuan lovage root extract, white peony root extract, jujube fruit extract]
Calcium D-Glucarate 150 mg *
Indole-3-Carbinol 75 mg *
Alpha-Lipoic Acid 75 mg *
DIM (diindolylmethane) 75 mg *
Quercetin 50 mg *
L-Glutathione (reduced) 25 mg *
Lactobacillus acidophilus 20 mg *
Co-Enzyme Q-10 10 mg *
Grape Seed Extract 10 mg *
Beta-1 3-Glucan (from purified yeast) 10 mg *
Other Ingredients:
Natural vegetable cellulose, silicon dioxide, magnesium stearate.
Compare to these:
---
Questions and answers:
Asked on:
January 13, 2013
Question: I know how you feel, my mom was diagnosed with stage 3 non-small cell lung cacner in May, they did radiation and chemo which got rid of the cacner in her lung and lymph nodes in and between her lungs. But, it had spread into her bones and several other lymph nodes, they did more radiation and chemo but she and was only given a few months to live, that was in mid-august. I could not accept losing my mom who is only 43 so I did a lot of research and found what I feel is her best hope. Maybe a good option for your friend , too, there are a lot of Breast cacner patients here as well. Also, while she is doing shemo look into interveneous vitamin C, you would probably have to do it through an alternative doctor, because mainstream doctors unfortunately are not well versed in natural supplements. I listed a few links for vitamin c info at the end.I am currently in the Bahamas with my mother. There is a clinic here that has been in operation for over 30 years. We have been here for 4 of our 8 week stay, everyday is really inspiring. A lot of the patients stick around in the meeting room waiting room to visit, and share stories and catch up. There are 40 people all talking and laughing, talking about cacner and life. The returning patients talk about how bad their cacner was 4, 8, 10, 18 even 28 years ago when they started coming to the clinic, the cacner that has since disappeared. There is nothing dangerous or foreign to the treatment, just building up your immune system in a very effective manner that allows it to identify and fight the cacner. If you want to know more contact me or go to I cannot tell you how impressed I am with what I have seen and how my mother has already improved. I know one man who was diagnosed with pancreatic cacner, he skipped all US, conventional (poisonous, dangerous) options and went to the Bahamas and is doing great now. Another man who has been coming here for 18 years that had prostate cacner. People with just about every type of cacner. But, they are honest here, you send them your medical information and they will tell you whether they believe they can help you or not, and they will send you home if they don't think you are benefiting. My mom has shown drastic improvements and is feeling so much better. and we are in the Bahamas so we are having a good Mother-Daughter vacation. When we got here she was on 75 mg of morphine a day plus 6ml of liquid morphine a day, now she rarely takes any morphine, and only occasionally takes Advil. Some of the pain she does get is associated with tumor kill, it happens to most patients as their immune system begins quickly destroying the cacner cells, it is a good thing.There are a lot of alternative treatments out there worth looking into. I have also done a lot of research on the Cesium ChlorideDMSO treatment and think that it has merit and you can do it at home.The clinic here believes that a supplementliquid called VIBE works really well in addition to other treatments, I am going to look in to that some more.One very helpful website isUS doctors push chemo and radiation, but when you look at the statistics and side effects it is not a good option for most people. My Mom had both before we came here and now that I know more about them and have researched them I feel horrible that I let her go through them. She was lucky (so far) the only long term side effect she has shown is short term memory loss. The stories I have heard from the other patients here about how they were treated by US medicine astound me. One lady went home to have a shunt put in her liver so she would be ok to come here, but they refused to put it in unless she agreed to do chemotherapy, is that what our country is about? Denying helpful procedures unless we agree to dangerous, toxic ones? The drug companies run US medicine at least when it comes to cacner treatment and it is sad. Most doctors will tell you not to try alternative medicine and some will refuse to even see you again if you do. To some degree they are not to blame, they have not been taught anything about it other than that it is evil and wrong and they would be rejected by their colleagues if they suggested alternatives.I am not saying that this will cure anyone, but I have seen dozens of people that it has helped and dozens more that are just starting, but already showing improvement. Please whatever you do, research first. I am so happy my mom is feeling better and I want to be able to help everyone else who's parent, sibling, child, friend or self has cacner, I know how it feels to watch them get worse and watch the treatment make them more sick. Good luck!! My prayers are with your family.
Asked on:
January 16, 2013
Question: This itnorduces a pleasingly rational point of view.
Explore More Products