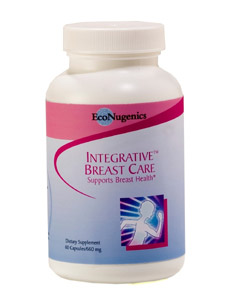 Women's Longevity Integrative Breast Care Formula (60 v-caps)
| | |
| --- | --- |
| | Sorry! This item has been discontinued. See below. |
EcoNugenics
Women's Longevity Integrative Breast Care Formula (60 v-caps)
Integrative Breast Care provides comprehensive, targeted nutritional support for women with a family history of breast health concerns. Women's Longevity IBC may help promote a stronger immune function in women who are being treated for breast cancer.
Promotes breast health
Provides cellular support
Supports healthy immune function
Promotes hormonal modulation*
Integrative Breast Care contains more than 40 different herbs, vitamins, minerals and nutrients that are combined according to both the insights of traditional Chinese medicine and the latest scientific studies. The formula includes vitamin A, and vitamin C, which have been shown to work synergistically to inhibit aberrant breast cell growth. Low dietary vitamin C, vitamin E, and selenium are associated with increased risk of unhealthy cellular growth. Vitamin D3 and vitamin E have been shown to support healthy cellular growth.
Vitamin A, selenium, coenzyme Q10, and DIM (diindolylmethane) have each been shown to enhance the effectiveness of traditional therapy in breast cell growth control. The role of trace elements, such as zinc and selenium, have been linked to healthy breast cell growth. The effect of quercetin and indole-3-carbinol have both shown an antiproliferative effect on breast cells.
Integrative Breast Care also incorporates the results of the latest research in phytochemicals into the formulation. The phytochemicals and other components are integrated with and balanced by traditional herbal medicines in the Antioxidant and Cellular, Longevity and Breast Health, Energy and Rejuvenation Proprietary Blends, which have been in continuous clinical use for the maintenance of breast health.
Suggested Use:
As a dietary supplement, take 2 capsules in the morning with a meal. For women with active concerns about breast health: 3 capsules twice daily, morning and evening, with a meal.
Vitamin A (as beta-carotene) 5000 IU 100%
Vitamin C (as magnesium and calcium ascorbate) 75 mg 130%
Vitamin D3 (as cholecalciferol) 200 IU 50%
Vitamin E (as d-alpha tocopherol succinate) 50 IU 170%
Zinc (as orotate, and picolinate) 15 mg 100%
Selenium (as L-selenomethionine) 75 mcg 110%
Antioxidant and Cellular Protection Proprietary Blend 255 mg
(Turmeric rhizome extract, garlic bulb deodorized extract, milk thistle seed extract, green tea leaf extract, cat's claw bark extract)
Longevity and Breast Health Proprietary Blend 135 mg
[Red clover leaf and flower extract, hedyotis leaf extract, heal all herb extract, barbed skullcap herb extract, reishi mushroom (Ganoderma lucidum), Job's tears seed, umbellatus mushroom (Polyporus umbellatus), peach seed extract]
Energy and Rejuvenation Proprietary Blend 30 mg
[Rehmannia root extract, astragalus root extract, Asian ginseng root extract, bai-zhu atractylodes root extract, cassia bark extract, dong quai root extract, ginger root extract, licorice root extract, poria mushroom extract, Sichuan lovage root extract, white peony root extract, jujube fruit extract]
Calcium D-Glucarate 150 mg *
Indole-3-Carbinol 75 mg *
Alpha-Lipoic Acid 75 mg *
DIM (diindolylmethane) 75 mg *
Quercetin 50 mg *
L-Glutathione (reduced) 25 mg *
Lactobacillus acidophilus 20 mg *
Co-Enzyme Q-10 10 mg *
Grape Seed Extract 10 mg *
Beta-1 3-Glucan (from purified yeast) 10 mg *
Other Ingredients:
Natural vegetable cellulose, silicon dioxide, magnesium stearate.
Compare to these:
Explore More Products