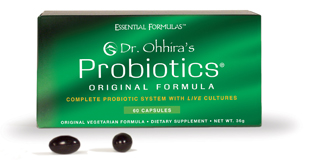 Full price 35.95
Savings 5%
Probiotics Original Formula (30 capsules)
| | |
| --- | --- |
| | Buy 3 - Get free delivery on whole order |
Dr. Ohhira's Probiotics Original Formula
30 capsules
Blister-packed to ensure product integrity
Improve your internal flora with a system that is much more than an ordinary probiotic. Dr. Ohhira's Probiotics Original Formula combines ancient fermentation skills and modern science to create a powerful formula that changes the gastro-intestinal, GI, environment to restore all healthful strains and to discourage the bad. Developed by renowned microbiologist Iichiroh Ohhira, Ph.D. and a team of distinguished research scientists from Okayama University this powerful and unique product was brought to the US by Essential Formula's Inc. and Michael Schoor. Several years ago, Michael was traveling in the Far East when he became ill. Doctor's prescribed the local remedy, which worked for better than any traditional medicine he had been given in the past. So intrigued by his quick and complete recovery, Michael decided to seek out the source of this wonderful discovery. His journey lead him to meet Dr.Ohhira and the rest is history. OM-X is the tradename of Dr. Ohhirra's probiotic formula in Japan.*
Well Balanced and Vigorous
Twelve select strains are used in a 3-year fermentation process to maximize health-giving properties and to foster the strongest bacteria.*
Ready to Work
The fermented original culture medium of nutritious seaweed, fruits, vegetables and mushrooms are encapsulated with the bacteria to provide a most effective and well-tolerated pre-biotic.*
Broad and Lasting Benefits
Organic acids naturally produced by the bacteria help improve digestive pH for the benefit of the hundreds of other beneficial strains in your system — some strains are unique to the individual.*
Uniquely Potent- Proprietary strain TH10 is 6 times stronger than other probiotics.*
Safe- Guaranteed free of Soil-Based Organisms (SBO's).*
Effective -Guaranteed to cohere in the GI tract. Proven in university studies.*
Hypo-allergenic. Contains NO dairy or gluten.
Contains soy. Soybeans used in long-term fermentation process are predigested and structurally modified to reduce or eliminate immunoreactivity to soy. Product does not contain milk, egg, fish, crustacean shellfish, tree nuts, wheat (gluten) peanuts or soybeans.

Contains no dairy or gluten.

Non-GMO, chemical-free
Stable No refrigeration is needed because fermentation takes place at ambient temperatures— convenient.
Impressive 3 year shelf life.
Perfectly Natural 100% vegetarian, including the soft capsule, non-GMO and free of pesticides and chemicals.
Supplement Facts
Dr. Ohhira's Probiotics Original Formula
Serving Size: amount
APS
%DV
Proprietary Fermented Culture—fermented culture medium of fruits, vegetables, mushrooms and seaweeds containing prebiotics, enzymes, bacteriocins and trace amounts of vitamins, minerals and amino acids
0.42 g *
Proprietary Organic Acid Blend—citric acid, lactic acid, formic acid, acetic acid
1.27 mg *
Proprietary Lactic Acid Bacteria Blend†
900 million CFU ***
* OM-X is the tradename of Dr. Ohhirra's probiotic formula in Japan
**daily value not established
Suggested use: 2 capsules daily or as directed by your health professional. (Children under age 6: 1 capsule daily.) For best results, take 1 capsule with water twice a day on an empty stomach. If benefits are desired in the stomach (e.g. heartburn or an unsettling meal) the capsules may be chewed. Temporary reactions such as minor bloating or a mild laxative or constipating effect are signs that the bacteria are remodeling, detoxifying and improving the gut environment. (If such transition effects last more than 14 days, consult your health professional).
Other ingredients: mountain spring water, safflower oil, beeswax, lecithin, capsule (tapioca processed from Manihot utilissima root, glycerin, carrageenan and caramel color.) Lactic Acid Bacteria used in fermentation: Bifidobacterium breve ssp. breve, Bifidobacterium infantis ssp. infantis, Bifidobacterium longum, Enterococcus faecalis TH10, Lactobacillus acidophilus, Lactobacillus brevis, Lactobacillus bulgaricus, Lactobacillus casei ssp. casei, Lactobacillus fermentum, Lactobacillus helveticus jugurti, Lactobacillus plantarum, Streptococcus thermophilus
†Ingredients are fermented and processed for three years using 12 strains of lactic acid bacteria. All strains may not be present in final product.
Refrigeration not required
These statements have not been evaluated by the FDA. This product is not intended to diagnose, treat, cure or prevent any disease.
**At time of manufacture.
*Not intended to diagnose or treat diseases or ailments, and is not reviewed by the FDA.
Uses & Indications.
Support Gastro-Intestinal Health
Restore Intestinal Flora
Maintain Healthy Digestion
Ailments & Concerns.
Chronic Fatigue
Severe Diarrhea
Compromised Immune System
Compare to these:
---
Questions and answers:
Asked on:
January 14, 2013
Question: Hi, I have taken these for the last month and I have seen good results. There has been a desceare in bloating and gas, my skin looks better and even my dreaded backne is beginning to subside. My scalp no longer itches and my yeast infections have desceared as well. I am very happy with this and will continue to take it, gladly. Excellent product, I am looking forward to seeing what other conditions it helps!
A: Thank you for sharing this with our customers. I'm glad to hear you are having great results with Probiotics Original Formula.
Asked on:
January 30, 2013
Question: has anyone in the usa tested this for any kind of radiation?
Asked on:
October 22, 2013
Question: i have gastritis , esp when i drink coffee, or cococ products and oily food, will taking the probiotics help
A: Beneficial bacteria, such as the ones contained in this probiotic supplement may have a detoxifying effect and help improve the gut environment. Probiotics live in the intestinal tract, and not only help us to properly digest and absorb nutrients that are key to our survival, but also manufacture B vitamins, produce substances that inhibit harmful (or pathogenic) bacteria, and strengthen our immune systems. The best time to take this probiotic is on an empty stomach first thing in the morning about 45 minutes before breakfast and at night about two hours after last meal. This allows the capsule to bypass stomach acid and open in the intestinal track providing maximum benefit. Some signs that the intestinal flors is unhealthy may include but are not limited to, Allergies and Chronic, Faulty digestion, Frequent constipation and diarrhea, and Peptic Ulcers.


Asked on:
January 24, 2016
Question: Would this help my insomnia
A: Probitiotics are a great way to enhance your immune system and keep your digestive track in good health. To address insomnia you may consider, Sweet Dream Strips by Essential Source. These strips perform 3X fater than other sleep aids, due to the sublingual delivery. http://seacoast.com/p10016-sweet-dream-strips-essential-source-24-fast
Explore More Products