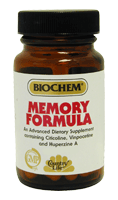 Full price 25.25
Savings 35%
Memory Formula is an advanced dietary supplement from Country Life. Memory Formula contains Citicoline, Huperzine A, and Vinpocetine. These main ingredients may contribute to a healthy brain, and functional memory.
Enzymes can be found all throughout the human body. Most associate enzymes with the digestion process alone. However, there are enzymes within our craniums, carrying out their tasks and decomposing substances. One of the nastiest neuro-enzymes is known as acetylcholinesterase. This particular enzyme seeks out and destroys the acetylcholine in our brains- a substance which aids in memory and cognitive functioning. Memory Formula by Country Life may block and reduce the effects of acetylcholinesterase, and improve memory.
Benefits:
All natural
Cerebal circulation
Memory
Cognitive preformance
50 Capsules
2 Capsules Contain:
Citicoline (CDP choline)

150 mg

alpha-Lipoic Acid

20 mg

Vinpocetine Extract (seed, standardized at NLT 98%)

5 mg

Huperzine A Extract (moss)

50 mcg

Other ingredients: cellulose, gelatin (capsule shell), silica, magnesium stearate.
Compare to these:
Explore More Products