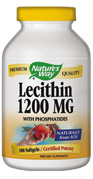 Lecithin 1200 mg ( 100 softgel )
This product has been discontinued.
Seacoast recommends an excellent replacement. Click here.

Sorry! This item has been discontinued. See below.
Lecithin 1200 mg contains phosphatidyl choline and phosphatidyl inositol, natural precursors for components of cell membranes and the nervous system.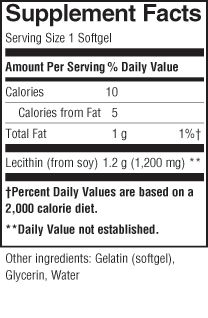 Compare to these:
---
Questions and answers:
Asked on:
October 25, 2012
Question: Is it to lose weight?
A: naturally formulated to support the circulatory system as well as keep cell membranes from hardening. Lecithin is one of the best sources of choline, which is used by the body to manufacture important compounds for cell membranes. It is also the precursor to an important brain chemical used in memory.
Asked on: October 27, 2012
Question: Can I take Lecithin with Lyrinol or ointcare?

Asked on: December 4, 2012
Question: no se especifica para que esta indicado y cuales son las contra indicaciones de este producto ya que lo que pusieron no convence a nadie.

Asked on: December 4, 2012
Question: puede reducir el colesterol

Asked on: December 4, 2012
Question: este medicamento puede afectar el rion

Asked on:
March 25, 2013
Question: Is this product GMO free????
A: I do not see anything indicating these are GMO free but I have contacted the manufacturer to verify. I will follow up with you once I receive word. Now foods does have lecithin that is gmo free. You can view this supplement below. http://www.seacoast.com/lecithin-1200-mg/now-foods/100-gels/p9047
Explore More Products