Doctor's Best - Science Based Nutrition
High Absorption Magnesium
High Absorption Magnesium contains elemental magnesium chelated with the amino acids glycine and lysine. As an essential dietary mineral, magnesium plays many important roles which include: helping cells produce metabolic energy, supporting optimum nerve function, helping muscles relax properly and maintaining a healthy heartbeat. Glycine has been shown to be an efficient carrier for minerals that facilitate absorption in the intestinal tract. Glycine is used by the body to form collagen, a key protein in cartilage and connective tissue. Lysine is an essential amino acid that assists gastric function.
As an essential dietary mineral, magnesium plays many important roles, including:
Acts as a co-factor for metabolic enzymes.*
Assists energy production in cells.*
Supports nerve and muscle function.*
Helps maintain a normal, regular heartbeat.*
Supports bone density.*
Gluten Free*
Vegan and Vegetarian Friendly*
Non-GMO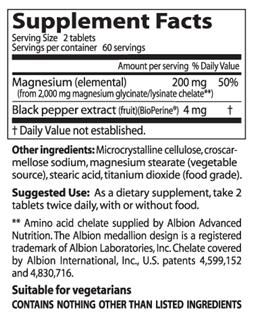 Magnesium sulfate has been the mainstay for the treatment of eclampsia and preeclampsia (toxemia of pregnancy) for decades. Strong evidence exists that magnesium sulfate is effective in the treatment of seizures in patients with preeclampsia and further seizures in patients with eclampsia.
Magnesium has been shown to be an effective adjunct (given either intravenously or with nebulizer) for the treatment of acute childhood asthma. Some studies have also shown benefit of magnesium for the treatment of cardiac arrhythmias, chronic obstructive pulmonary disease (COPD), type 2 diabetes, hearing loss, leg cramps during pregnancy, mitral valve prolapse symptoms, succinylcholine-induced fasciculation, and thrombolysis after an acute myocardial infarction. At higher dosages, magnesium may control hypertension, although evidence in this area is unclear.
*Not intended to diagnose or treat diseases or ailments, and is not reviewed by the FDA.
Uses & Indications.
Enhancing Metabolism
Increasing Calcium Absorption
Increasing Energy
Strengthening Teeth
Improving Muscle Tone
Ailments & Concerns.
Poor Muscle Tone
Fatigue
Tooth Decay
Osteoporosis
Vitamin Deficiency
Compare to these:
Explore More Products