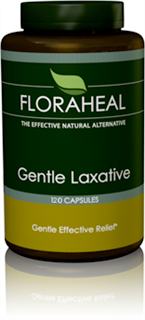 Full price 27.49
Savings 17%
Gentle Laxative (120 capsules)
This product has been discontinued.
Seacoast recommends an excellent replacement. Click here.

Sorry! This item has been discontinued. See below.
Gentle Laxative
Gentle Effective Relief
Do you have constipation problems?
Gentle Laxative can certainly help you!
Constipation is an annoying problem. Constipation is passage of small amounts of hard, dry bowel movements, usually fewer than three times a week. Constipation may also refer to a decrease in the volume or weight of stool, the need to strain to have a movement, a sense of incomplete evacuation, or the need for enemas, suppositories or laxatives in order to maintain regularity.
Gentle Laxative includes ingredients, which can help restore balance and regularity to the digestive system and bowel. Nourishing herbs such as Aloe have natural laxative properties and also act as a tonic for the liver. Gentle Laxative also includes Psyllium husks, which have long been used by Chinese herbalists to regulate bowel movements and alleviate constipation.
This all natural herbal blend contains:
Aloe leaf (Aloe Ferox)
Fennel Seed (Foeniculum vulgare)
Psyllium husk (Plantago ovata)
Magnesium Sulfate
Suggested Use: Take two capsules during the day, and two capsules before bed.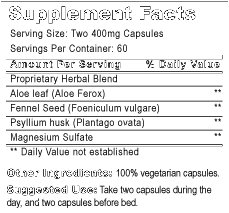 FloraHeal - 100% Kosher - Made in Israel
Compare to these:
---
Questions and answers:
Asked on:
January 16, 2013
Question: Laxatives for Weight Loss Laxatives to lose weight Laxatives Losing WeightUsing ltieaxvas to lose weight? What are you doody-ing to yourself! More damage than you can know In with the good, out with the bad. Seems like a pretty logical statement, doesn't it? But not when the topic is ltieaxvas! Taking ltieaxvas on a regular basis is like planting thousands of tiny explosives in your intestinal track. Intestinal abuse is what it is!How do ltieaxvas work? Well, sometimes not at all. And when they do, it can be pretty explosive! You can even become dependent upon them to get the job done'.Laxatives are available in several forms. Bulk ltieaxvas are considered the safest because they act similarly to a sponge, absorbing fluids within the body, thus expanding to increase the moisture content of the stool. The increased bulk also encourages activity in the intestinal track.Suppositories and enemas help stimulate waves of contractions in the intestinal muscles while stool softeners add liquid to the bowels resulting in easier passage.Constipation:Taking a laxative regularly to relieve constipation will only worsen your condition. A better remedy is accomplished by drinking sufficient amounts of water (6-8 glasses per day), getting critical fiber into your diet, and maintaining an active lifestyle. Try the 50 or more fiber cereals such as Fiber One and All Bran. A double serving of these ultra low calorie cereals will help your system get to moving with success! A serving size contains a mere 50-60 calories and you can eat it with skimmed milk so the calorie count is less that 100 calories per serving. WOW!Losing Weight via Laxatives:This is better known as The Big Purge Syndrome'. The abuser is putting considerable amounts of irritation on the bowel. As a visual, try tossing a pinch of baking soda into a tablespoon of vinegar. That's a laxative effect on your intestines. Poor intestines.Drug Interactions:Laxatives can interfere with several medications, causing them to be less effective. Laxatives can cause gastric upset, total dependency to achieve a bowel movement, in addition to possible toxic effects.Taking all these serious risks into consideration, the safest and best way to lose weight or maintain your current weight, is through SMART thinking smart eating smart activity.VA:F [1.9.81114]please wait...VA:F [1.9.81114](from 0 votes)
Explore More Products