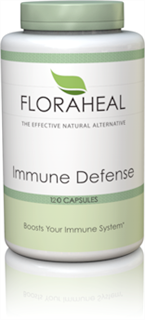 Full price 29.99
Savings 15%
Immune Defense (120 capsules)
This product has been discontinued.
Seacoast recommends an excellent replacement. Click here.

Sorry! This item has been discontinued. See below.
Immune Defense
Give Your Immune System The Fighting Power
When we are born, we come equipped with an immune system that is a natural protection mechanism against bacteria, infectious organisms, toxins, allergens, viruses and other assailants in the air. The immune system is composed of cells, tissues, proteins and organs that work together keeping your body's health. Every day we breathe in thousands of bacteria and viruses that drift around in the air, yet they do not affect us because our immune systems takes care of them.
Floraheal's Immune Defense is a proprietary blend of herbs, which has proven to be effective in boosting and strengthening your immune system. The herbs work together in perfect synergy to give your immune system the fighting power against various illnesses around us.
This all natural herbal blend contains:
Blueflag root (Iris versicolor)
Echinacea (Echinacea angustifolia)
Eucalyptus (Eucalyptus spp.)
Gentian (Gentiana scabra root)
Mullein leaf (Verbascum thapsus)
Goldenseal (Hydrastis canadensis)
Propolis (Resina propoli)
Suggested Use: Take four capsules daily, preferably with food.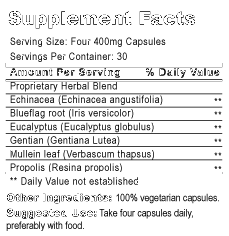 FloraHeal - 100% Kosher - Made in Israel
Compare to these:
Explore More Products