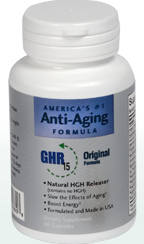 Full price 69.95
Savings 14%
GHR 15 Original Formula (240 caps)*
This product has been discontinued.
Seacoast recommends an excellent replacement. Click here.

Sorry! This item has been discontinued. See below.
American Anti-Aging
GHR 15 | 240 capsules = 3 months supply
GHR 15 uses HGH releasers or agonists -- ingredients that bring about the release of growth hormone from the pituitary gland. By using these agonists, GHR 15 is able to stimulate your pituitary to secrete extra HGH and then accentuate them to full potential with a proper diet and HGH-releasing exercises. Twenty amino acids form the building blocks of all proteins and are needed for the body to make the proteins of enzymes, many hormones, muscle, bone, skin, organs, etc. A number of these amino acids have been shown to induce growth hormone secretion -- and GHR 15 stacks them in such a way that maximizes their benefits.
GHR 15 is a revolutionary product based on years of anti aging research. This body of research explains that the most important change as we grow older is a decrease in HGH or Human Growth Hormone in the body. When developing GHR 15, scientists set out to combat the signs of aging. What they discovered was even more startling-they found that patients injected with a combination of selected herbs, vitamins, amino acids, glycine and minerals could revert the body's production of HGH, which returns the body's HGH levels to the levels they had been in their youth. This not only postponed the aging process, but actually reversed their biological clock by years. GHR 15 helps to release the HGH from the pituitary gland.
HGH is primarily released during the beginning phases of sleep. It is quickly converted by the liver into the growth-promoting metabolite somatomedin C, then circulated through the body. Most of the beneficial effects of GHR 15 are directly associated with somatomedin C. Since somatomedin C is vital in instructing cells to produce protein and repair themselves, low levels have been clearly linked to the aging process. Human Growth Hormone (HGH) is like estrogen, testosterone, progesterone, melatonin or DHEA - one of many endocrine hormones that decline in production as we age. It is the most abundant hormone secreted by the pituitary gland, a process which peaks during adolescence. Gradually this hormone secretion diminishes with age. By the time you reach the age of 60, you may only secrete 25% as much as the average 20 year old. This greatly contributes to the acceleration of the aging process.
The decline of growth hormone with age, is directly associated with many of the symptoms of aging. GHR 15 helps to prevent wrinkling, gray hair, decreased energy, and diminished sexual function. Lack of growth hormone contributes to increasing body fat, cardiovascular disease, osteoporosis, and an inclination toward other aging-related diseases.
Directions: Take four (4) GHR 15 capsules with six (6) to eight (8) oz. of clean filtered water. For best results take GHR 15 at bedtime three (3) hours after evening meal on an empty stomach. Regimen of five (5) days on, two (2) days off. For optimal effectiveness take GHR 15 as directed
Supplement Facts
GHR15
Serving Size:1 capsule provides
APS
%DV
Anterior Pituitary, (Bovine) **
20 mg
*
Hypothalamus **
5 mg
*
Amino Acid blend (essential amino acids)
300 mg
*
Phytosterol Complex
10 mg
*
Beta sitosterol, Campesterol, Stigmasterol
*
Soy Phosphatide Complex
20 mg
*
Phosphatidyl serene (40%), Phosphatidyl choline, Phosphatidyl ethanolamine, Phosphatidyl inositol
*
Panax Ginseng
20 mg
*
*Daily Value not established **USA source
*Not intended to diagnose or treat diseases or ailments, and is not reviewed by the FDA.
Uses & Indications.
Strengthening Immune System
Supporting Increased Muscle Strength
Growth Hormone Releaser
Improving Skin Tone
Helping To Speed Muscle Tissue Repair
Ailments & Concerns.
Wrinkled Skin
Reduced Energy
Brain Fog
Excess Body Fat
Memory Loss
Heart Disease
Restlessness
Osteoporosis
Compare to these:
---
Questions and answers:
Asked on:
April 6, 2014
Question: Hello,I am looking for GHR15 240 cap bottles. Do you have in stock? What is your best price for 3 or 4 bottles? or when would you be able to ship if not in stock?I you do not have the 240 cap bottles available in the near future, do you have the 80 cap GHR15? What is your best price for 6 to 10 bottles?I would like to know the totals including shipping to N.California and would need to ship this week.
A: We no longer sell the American anti-aging products here at Seacoast Vitamins. You may consider Source naturals HGH surge 150 tabs. The link to view this product is below. http://www.seacoast.com/hgh-surge/source-naturals/150-tabs/p6842
Explore More Products