Celery Seed Extract (60 Caps)*
Celery Seed (60 caps)
3nB was discovered as the active component of celery in response to investigations by researchers seeking to explain some of the medicinal effects of celery including the lowering of blood pressure, the relief of arthritis and especially gout.
Natural Factors Celery Seed Extract is standardized to contain 85% 3-n-butyl phthalide or 3nB - a compound that is unique to celery and is responsible for the characteristic flavour and odour of celery. One capsule provides the same level of 3nB as 4 to 6 ribs of celery.
Aids to lower blood pressure
Reduces water retention
Reduces the pain associated with arthritis, fibromyalgia and gout
Wheat, Dairy, Gluten, Soy, Yeast, Corn and Preservative Free
Free of Artificial Colors and Flavors
Suggested Use: 1 capsule, 2 times daily or as directed by a health care practitioner. Keep out of the reach of children. 
Each capsule contains: Celery seed (Apium graveolens) .....................75 mg (Standardized to 85% 3-n-butylphthalide calculated as total phthalides)
Other Ingredients Rice powder, gelatin capsule (gelatin, purified water), cellulose, magnesium stearate (vegetable grade), di-calcium phosphate, silica.
SKU: 4515
UPC: 068958045153
Distributed or manufactured from Natural Factors. See more
Natural Factors
products.
Login for Details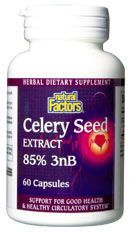 FREE SHIPPING
*Not intended to diagnose or treat diseases or ailments, and is not reviewed by the FDA.
Uses & Indications.
Effective Diuretic
Reducing Inflammation
Lowering Blood Pressure
Lowering Cholesterol
Increasing Blood Flow
Ailments & Concerns.
Hypertension
Rheumatism
Urinary Tract Infection
Heart Disease
Gout
Water Retention
Compare to these:
Reviews
Wednesday 05 August, 2009
I WROTE ABOUT HOW HAPPY I AM WITH BLOAT-AWAY, I ALSO SAID I USE CELERY SEED EXTRACT. I TRIED TO GET MY PRESCRIPTION FILLED FOR MY WATER PILLS AND MY DR. SAID HE WOULDN'T FILL IT UNTIL I HAD ANOTHER BLOOD TEST,(I'VE BEEN TAKING IT FOR OVER 10 YEARS) HE SAID IT COULD HURT MY KIDNEYS! SO THAT BEGAN MY HUNT FOR NATURAL WATER PILLS AND FOUND SEACOAST AND CELERY SEED EXTRACT AND BLOAT-AWAY. I HAVE BEEN USING THEM FOR A FEW WEEKS AND NO WATER RETENTION AND HEALTIER KIDNEYS I HOPE!!! THANK YOU. AND I WISH YOU ALL GODS BLESSINGS. DONNA IN FLORIDA.
Tuesday 04 November, 2008
I have used it for almost a year, and found that my Uric Acid level maintains normal until the last lab test on June 2008. Of course, you still have to avoid some high purine foods. I think it is good also for reduce Hypertension, as my Blood pressure is also in normal level. I am using it and will still use it.
Wednesday 27 August, 2008
I've been taking this for 10 months and I have been gout free. I have had great success with this product. As long as it keeps on working, I will keep on taking it.
Thursday 10 July, 2008
They seem to help with the stiffness in my husband's legs and feet from standing all day on concrete floors. He was having a real problem with his feet hurting and that seems a lot better.
Wednesday 25 June, 2008
So far it has seemed to help a little. I am also trying to change the things I eat to also. Celery seed is supposed to reduce inflamation in the body too.
Sunday 25 May, 2008
I have been using this product for only a week now and my blood pressure is in the low 130's. When I was at the doctor's office earlier this month my blood pressure was 15 points higher. I wanted to find a natural solution to get it down. I plan on continued use to get it even lower. I even feel less stressed knowing that my blood pressure has dropped. I decided to buy this recommended brand from Seacoast because it is half the cost at my local health food store and the cheapest price I've found on the web. Thanks!!!!!!
Friday 25 April, 2008
Celery seed combined with Peptides is supposed to help control hypertension so since this is a product by a reputable company and at a good price, thought I'd give it a try.
Tuesday 01 April, 2008
2 caps a day drops my BP 20 points. I have used for almost two years now an still works with no diminished results.
Monday 18 February, 2008
No statins for me! Celery Seed Extract keeps my blood pressure within acceptable limits. I've been using it for 6 months now, and the results are excellent!
Sunday 20 January, 2008
I have been using Natural Factors Celery Seed Extract since 2006. It has helped reduce my systolic levels by an average of 10-15 points and helped maintain my diastolic levels well within the safe range. It is the only medication I take to control my blood pressure, so I highly recommend it.
Monday 13 August, 2007
After years on hydrochlorothiazide (sp), they no longer worked to flush off fluid. The Dr. wanted to put me on something stronger. After reading the article on Celery Seed Extract by Dr. Michael Murray, I took it to my next Dr. visit. He said it was worth a try since I was getting so many side effects from the drugs. Combined with Natural Factors ACE Peptides, I have been able to work myself off of the drugs after 15 yeaqrs of misery, and my blood pressure has dropped from the 170's (on the drugs) into the 130's.
Explore More Products