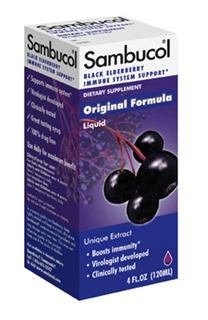 Full price 14.99
Savings 22%
Black Elderberry Immune Support Liquid (4 oz)
Sambucol
Original Formula Black Elderberry Immune Support Liquid
Sambucol Original Formula is a dietary supplement containing natural black elderberry that boosts immunity. This clinically-tested, great-tasting syrup was developed by a scientist and can help support a healthy immune system.
Sambucol is a natural product trusted by millions of people with positive results being reported worldwide.
Developed by a world renowned virologist, Sambucol is the unique black elderberry extract that has been used in published clinical studies. No other elderberry brand can make the same claim. By using a proprietary method of extraction, only Sambucol can guarantee consistent, immune supporting properties in every dose.
You may use Sambucol daily for continuous immune system support.
Suggested Use:
For daily maintenance: Adults and children over four years: take two teaspoons daily
Intensive use: Adults and children over four: take two teaspoons four times a day