Working...
UAS Labs, DDS Acidophilus Tabs to DDS Acidophilus Tabs
The following resources explore in depth through health guides, related materials and important information.DDS Acidophilus Tabs & DDS Acidophilus Tabs
UAS Laboratories, Inc., a leading probiotic company, was founded by Dr. S.K. Dash in 1979. The company manufactures premier probiotics with the super strain DDS-1. It also manufactures other supplements including antioxidants and joint health products. Dr. Dash became interested in probiotics while working as the director of the Food and Drug Administration for South Dakota from 1973-1979. He found that studies showed probiotics were 97% effective in treating E. coli infections in pigs, an efficacy rate equal to the antibiotics then being used. Building on this research, he started his own company and began to develop probiotics for human use. He also introduced quality control standards to the industry and became the chairman of the National Probiotics Products Committee because of his expertise in probiotics and concerns about the honesty in labeling and quality control. At present, Dr. Dash is the scientific advisor and vice president of the International Probiotic Association.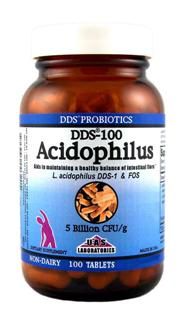 UAS Labs
DDS Acidophilus tablets help you maintain optimum levels of good bacteria, and increase the strength of your body's natural defense.
Now displaying products 1.) DDS Acidophilus Tabs through 1.) DDS Acidophilus Tabs out of 1 total.
1. Statements and claims on Seacoast.com have not been evaluated by the FDA and are not intended to treat or diagnose any ailment or disease.