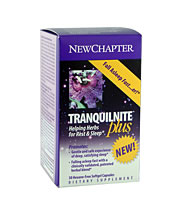 Full price 31.95
Savings 18%
TranquilNite Plus (30 SGels)*
| | |
| --- | --- |
| | Sorry! This item has been discontinued. See below. |
30 Hexane-Free Softgel Capsules
So many things in our lives today can inhibit healthy sleep patterns. Stress and anxiety are two of the most common culprits behind a night spent tossing and turning as opposed to sleeping. Sure, there are many items on the drug market today which claim to help you fall asleep faster, and stay asleep longer, but most (if not all) of them also carry a risk of dependency.
Why not pursue healthy sleep naturally with TranquilNite Plus from New Chapter Nutrition? TranquilNite Plus is 100% natural containing herbs which have been used safely for centuries to help calm and balance emotions, relax the mind, and promote deep and restful sleep. Only the finest and purest extracts of herbs such as Valerian, Hops, Ginger, and Lavender are used in TranquilNite Plus to help relieve tension and promote sound sleep. TranquilNite Plus has also been shown to help you wake feeling refreshed, energized, and ready to seize the day.
Benefits:
Promotes Healthy Sleep
Energized & Refreshed upon Waking
Eases Tension
Balances Emotions
Soothes Digestion
Counters Nervousness
Calming Herbal Formula
Suggested use: Take 1-3 softgels approximately 1 hour prior to bedtime with 8 ounces of water. Please use caution when taking this product as TranquilNite Plus has been formulated to induce drowsiness and a deep sense of relaxation. Do not attempt to opperate heavy machinery after taking this product.
TranquilNite Plus
Serving Size: 1-3 Softgels
APS
%DV
Valerian (Valeriana officinalis) and (Verleriana mexicanus) (roots) 16 mg supecritical extract (0.8% valerenic acid) 150 mg ethanolic extract
166 mg
*
Seditol®, proprietary blend: (Magnolia officinalis) (bark) and (Ziziphus spinosa) (seed)
120 mg
*
Hops (strobiles) 13 mg supercritical extract (34% humulones, 11% lupulones) and 3 mg ethanolic extract (1.09% xanthohumol)
16 mg
*
Ginger (rhizome) 2 mg supercritical extract (30% pungent compounds, 8% zingiberene) and 4 mg ethanolic extract (3% pungent compounds)
6 mg
*
Lavender (flower) supercritical extract (25% linalool)
3 mg
*
Passion Flower (herb) extract (3% vitexin)
6.6 mg
*
Chamomile (flower) supercritical extract (minimum 2% alpha-bisabolol)
5 mg
*
Peppermint (leaf) supercritical extract (35% menthol)
3 mg
*
APS = Amount Per Serving
*% Daily Value (%DV) not established.
Other Ingredients: Olive oil-extra virgin, yellow beeswax, maltodextrin, microcrystalline cellulose, and silica.
Capsule: Gelatin, vegetable glycerine, water and carob.
*Not intended to diagnose or treat diseases or ailments, and is not reviewed by the FDA.
Uses & Indications.
Promoting Longevity
Promoting Well-Being
Elevating Mood
Ailments & Concerns.
Anxiety
Insomnia
Depression
Post-Dramatic Stress
Compare to these:
---
Questions and answers:
Asked on:
January 13, 2013
Question: 11 of 11 people found the fooilwlng review helpful Great treatment for female dryness, September 1, 2009Bya0 (WI) I read about this product in the June 2007 issue of Prevention magazine. I am a little on the dry side (vaginal), so I thought I'd give it a try. I only use 2 caps a day to 1 and it does help quite a bit (the bottle suggests up to 4 caps a day). It works for me.However, when I ordered the product I thought I was going to get 120 caps as advertised, but only received the 60 capsule size. Still as my pocket book allows, it is worth it to me.Help other customers find the most helpful reviewsa0Was this review helpful to you?a0 a0 lightbulbgirl says: 10 of 10 people found the fooilwlng review helpful Valuable for Interstitial Cystitis, June 28, 2010Bya0 (Cleveland, Ohio United States) Amazon Verified Purchase() I became interested in Supercritical Omega 7 and sea buckthorn after reading that it was beneficial for the digestive tract and urinary tract. I have interstitial cystitis and the pain was almost unbearable. I took this product for about 3 months when I noticed a considerable decrease in the pain. I stopped taking it for about 2 months and the pain came back full force. Needless to say, I am taking it again (one a day) and have again noticed improvement. This product may not work for everyone with interstitial cystitis but it is definitely worth a try.Help other customers find the most helpful reviewsa0Was this review helpful to you?a0 a0 Related Articles From This CategoryPosted On Wednesday, September 21st 2011 New-Skin Scar Fade, Topical Gel, 0.5-Ounce Tubes (Pack of 2)FeaturesCase of two 0.5-ounce tubes of ...Posted On Saturday, August 20th 2011 New-Skin Scar Fade Topical Gel: 0.5 OZFeaturesNet quantity of 5 ouncesEasy, quick and effective way ... Discount and Coupons CategoriesTagsRecommend
Explore More Products