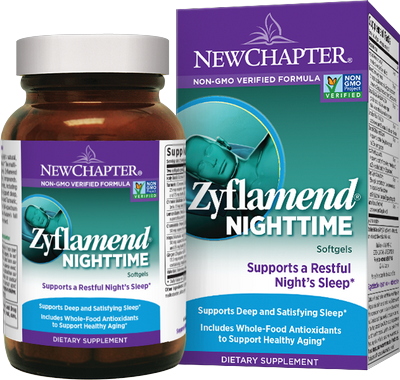 Full price 44.95
Savings 30%
Zyflamend Nighttime (60 liquid caps)*
Does pain and inflammation keep you awake at night?

price

Price is

too low

to show. Add it to your cart

Buy 3 - Get free delivery on whole order
Are pain and inflammation keeping you awake at night?
New Chapter's patented Zyflamend PM formulation represents a scientific breakthrough in promoting a healthy inflammation response while you sleep.
New Chapter has extensively researched the herbal pharmacopoeia and international medical databases and discovered that the following time-tested herbs, properly extracted and blended in the correct proportions, contain at least 8 phytonutrients that may safely and significantly promote a healthy inflammation response and gently and safely promote the experience of deep and satisfying sleep.
HOPS A supercritical extract marked for humulones, potent inflammation modulators that also significantly promote structural health.
CHAMOMILE Traditionally used to support a natural state of deep restfulness.
HOLY BASIL Contains the inflammation modulator ursolic acid, which significantly enhances detoxification and promotes a healthy inflammation response.
MELISSA Delivers 11 inflammation modulating compounds according to the USDA database. German Commission E, a leading authority on herbal medicine prescribes Melissa for optimal sleep quality.
VALERIAN ROOT A source of 14 inflammation modulating compounds according to the USDA database. The Journal of Pharmacopsychiatry concludes valerian offers multiple "improvements in sleep structure."
BAIKAL SKULLCAP Traditionally recognized for its calming influence.
GINGER Asupercritical extract modulates both eiscosanoid cascades and offers numerous anti-aging constituents.
TURMERIC A unique curcumin photonutrient complex
Suggested use: Two softgels in the middle of dinner with an 8 oz glass of water.
Supplement Facts
Amount per 2 Softgels
% Daily Value
Holy Basil (Ocimum sanctum) (leaf) hydroethanolic extract
(min. 3 mg ursolic acid)
150 mg
*
Turmeric (Curcuma longa) (rhizome) 25 mg organic supercritical extract
(min. 17.5 mg essential oils containing turmerones) and 75 mg hydroethanolic extract (min. 5.25 mg curcuminoids)
100 mg
*
Chinese Skullcap (Scutellaria baicalensis) (root) hydroethanolic extract
(min. 17 mg baicalein complex including baicalein and baicalin; and min. 0.4 mg wogonin)
100 mg
Lemon Balm (Melissa officinalis) (leaf) supercritical extract (min. 0.85 mg essential oil; including neral and geranial)
85 mg
*;
Chamomile (Matricaria recutita) (flower) 50 mg supercritical extract
and 25 mg hydroethanolic extract (min. 0.75 mg apigenin glycosides)
75 mg
*
Hops (Humulus lupulus) (strobiles) 50 mg supercritical extract
(min. 17 mg humulones; min. 6 mg lupulones) and 25 mg hydroethanolic extract (min. 0.25 mg xanthohumol)
75 mg
*
Ginger (Zingiber officinalis) (rhizome) 13.5 mg organic supercritical extract
(min. 3.2 mg pungent compounds; min. 4 mg essential oils containing zingiberene)
and 61.5 mg hydroethanolic extract (min. 1 .8 mg pungent compounds)
75 mg
*
Valerian (Valeriana officinalis and Valeriana mexicanus) (root) supercritical extract
(min. 80 mcg valerenic acid)
40 mg
*
* Daily value not established
Other ingredients:
Other ingredients: Extra-virgin olive oil, hypromellose (capsule), organic olive oil, maltodextrin, organic yellow beeswax, candelilla wax and silicon dioxide.
Naturally gluten free; our premium softgel capsules are prepared without any chemical solvents and are BSE free.
Caution: As with any dietary supplement, contact a healthcare professional if you have a long term medical condition, take regular medication or are planning surgery. Do not drive or operate machinery or equipment after taking this product. For short term use only. If sleeplessness persists beyond two weeks, if you experience an adverse event, or if you develop symptoms of abdominal pain, dark urine, or jaundice, discontinue use and contact a healthcare professional. Supplements are not a substitute for medical therapy. Taking with a meal and a full glass of water may reduce stomach upset.
Do not use if pregnant, nursing or considering pregnancy. Keep out of reach of children.
Read ingredients carefully and avoid use if known sensitivity to any ingredient.
*Not intended to diagnose or treat diseases or ailments, and is not reviewed by the FDA.
Uses & Indications.
Relieving Inflammation
Promoting Sleep
Improving Joint Mobility
Calming Nerves
Reducing Risk Of Cancer
Promoting Well-Being
Ailments & Concerns.
Joint Stiffness
Aging
Osteoarthritis
Restlessness
Cancers
Rheumatoid Arthritis
Compare to these:
Reviews
Monday 23 November, 2009
I bought this because of terrible muscle spasms in my hip and down my leg , In my case it has seemed to help and this is the first nite I used it . So if you have had problems with sciatica it just may help you. I sure wish that I had found it alot sooner , I have sufferer with pain and inflammation for nearly 2 to 3 months already . ( Just wish that the other reviewer would have saved her bottle and gave it to me lol ...)
Monday 28 September, 2009
I used it and was awake until 4:00 am. I normally fall asleep right away and sleep 7 l/2 to 8 hours. In addition, I tingling all over my body and I was lightheaded. Zyflamend PM is now in the trash.
Explore More Products