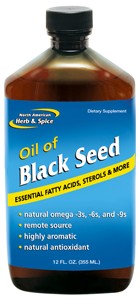 Full price 39.99
Savings 18%
Oil of Black Seed-plus (12 oz)
| | |
| --- | --- |
| | Buy 3 - Get free delivery on whole order |
North American Herb and Spice
Oil of Black Seed-plus (12 oz)
Oil of Black Seed is the natural way to feed the cells of the body with a luscious aromatic oil. This is a top source of essential fatty acids among other vital nutrients. This is the true 100% cold-pressed Mediterranean black seed oil along with wild rosemary oil, wild oregano P73 oil, and organic garlic oil. Oil of Black Seed is a natural source of vitamin E, sterols, sterolins, and vital omega-3s, -6s, and -9s. Take one or more teaspoons daily. Makes a tasty addition to any food such as salad, soup, or vegetables. Also add to smoothies.

Compare to these:
---
Questions and answers:
Asked on:
January 23, 2013
Question: does it help cure fibroids?
A: Blackseed oil is great for a variety of things. Studies show that Blackseed oil can act as an anti-inflammatory, anti-bacterial, blood pressure reducer, immune support, and more.
Asked on:
April 18, 2013
Question: I have low blood pressure, but may have had a mini stroke. Is black seed oil recommended for stroke prevention?
A: Black Seed Oil because of its ability to help decrease

triglyceride levels may help to prevent strokes however I would consult with a physician about your possible mini-stroke and ask if this is suitable for you to take alone or if anything else is needed to help you.
Asked on:
October 25, 2015
Question: Is this product used for hiv?
A: Black Seed is also known as black cumin, nutmeg flower, black caraway, fennel flower and nigella sativa. An impressive case study in The African Journal of Traditional Medicine and Alternative Therapy in 2013 using black seed oil with HIV patients showed very positive results. Many studies have been conducted and concluded that compounds from the black cumin seed assist with boosting the production of bone marrow, natural interferon and immune cells. A popular use of black seed in those treating asthma, bronchitis, rheumatism and cold symptoms. The seeds of the black cumin plant contain over 100 chemical compounds. The active ingredient in black cumin seed is believed to be crystalline nigellone. Black cumin seeds contain, beta sitosterol, myristic acid, palmitic acid, stearic acid, oleic acid, linoleic acid, protein, vitamin B1-2 and 3, folic acid, calcium, iron, copper zinc and phosphorous. WebMd concludes that more research is needed to rate the effectiveness on some of the disease showing positive results with black seed use.
Explore More Products