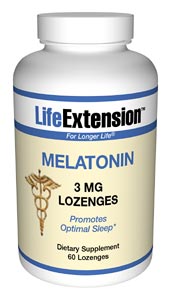 Melatonin (3 mg 60 lozenges (to be dissolved in the mouth))*
price

Price is

too low

to show. Add it to your cart

Buy 3 - Get free delivery on whole order
LifeExtension- Nutritional Supplements, Antiaging, Health and Nutrition
Melatonin 3 mg
Melatonin releases from the pineal gland, reaching its peak at night to help maintain healthy cell division in tissues throughout the body. Secretion of melatonin declines significantly with age, as the pineal
Supplement Facts
Serving Size 1 lozenge Servings Per Container 60 Amount Per Serving Melatonin 3 mg Other ingredients: sorbitol, cellulose, croscarmellose sodium, magnesium stearate.Contains corn. This product contains NO milk, egg, fish, peanuts, crustacean shellfish (lobster, crab, shrimp), soybeans, tree nuts, wheat, yeast, gluten, or rice. Contains NO artificial sweeteners, flavors, colors, or preservatives.
Compare to these:
---
Questions and answers:
Asked on:
February 11, 2013
Question: what does this do
A: People use melatonin to adjust the body's internal clock. It is used for jet lag, for adjusting sleep-wake cycles in people whose daily work schedule changes (shift-work disorder), and for helping blind people establish a day and night cycle. Melatonin is also used for the inability to fall asleep (insomnia); delayed sleep phase syndrome (DSPS); insomnia associated with attention deficit-hyperactivity disorder (ADHD); insomnia due to certain high blood pressure medications called beta-blockers. Some people use melatonin for Alzheimer's disease, ringing in the ears, depression, chronic fatigue syndrome (CFS), fibromyalgia, migraine and other headaches, irritable bowel syndrome (IBS), bone loss (osteoporosis), a movement disorder called tardive dyskinesia (TD), epilepsy, as an anti-aging agent, for menopause, and for birth control.

Other uses include breast cancer, brain cancer, lung cancer, prostate cancer, head cancer, neck cancer, and gastrointestinal cancer. Melatonin is also used for some of the side effects of cancer treatment (chemotherapy) including weight loss, nerve pain, weakness, and a lowered number of clot-forming cells (thrombocytopenia). As with any supplement, it is always recommended to consult with your physician when introducing a new supplement to your routine.
Asked on:
August 21, 2013
Question: a patient on beta blocker and digoxin can take melatonin without any interference with thses tablets. Secondly whether anti depressants are better for insomnia or melatonin for long term use.
A: fF you are being treated for any medical condition it is advised that you consult with your physician before using. Melatonin is more commonly used in elderly people as the melatonin secretion normally produced by the pineal gland reduces significantly with age. Melatonin is also commonly used for jet lag and for use when one's sleep patterns shift though some people do use it for insomnia. Your physician would be best advised to let you know what supplement you can safely take with medicines you are currently on. Most sleep aids should not be used for long-term use. We do carry some homeopathic products you may want to look into. One in particular by Hyland's is formulated specifically for Insomnia.

In general, because the ingredients in homeopathic remedies are in small amounts they do not have any drug interactions. However, if you are concerned about using a homeopathic remedy with other prescription or over-the-counter (OTC) drugs that you are taking, we recommend that you speak with your doctor or pharmacist.

http://www.seacoast.com/homeopathic-insomnia-relief/hylands/100-tabs/p1953

Explore More Products