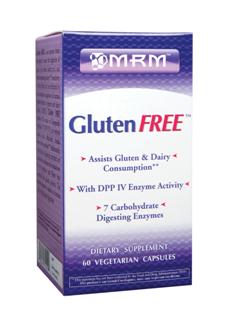 Full price 24.95
Savings 31%
Gluten FREE (60 Vcaps)
| | |
| --- | --- |
| | Sorry! This item has been discontinued. See below. |
MRM, Gluten FREE, 60 Vegetarian Capsules
MRM's Gluten FREE is an enzyme blend developed to assist the digestion of foods containing gluten and dairy proteins.
Benefiting your digestive health by:
Assisting Gluten & Dairy Consumption
Providing DPP IV Enzyme Activity
Delivering 3 Protein Digesting Enzymes
Implementing 7 Carbohydrate Digesting Enzymes
Sensitivities to gluten and dairy proteins are common and can result in more than just digestive discomfort. Avoiding specific foods (rye, wheat, barley, dairy, etc.) can lead to an unbalanced diet and nutrient deficiencies. Gluten and dairy containing foods are often rich sources of B vitamins, vitamins A & D, calcium, potassium, phosphorus, iron, zinc, and magnesium, among other minerals. Enzyme supplementation can provide enhanced assimilation of nutrients and relief from digestive discomfort due to certain foods.
Enzyme Digestive Activity Chart
Lactase: Digests lactose over a wide range of pH
Amylase:Digests- interior glucosidic bonds of starch to release simple sugars
Cellulase: Digests- cellulose, an indigestible structural carbohydrate of plant cell walls, allowing for improved access to gluten peptides
Hemicellulase: Digests- indigestible components of plant fiber for improved access to gluten peptides
Glucoamylase: Digests ends off long chainsof starches
Beta-glucanase: Digests plant polysaccharides for general nutritional support
Xylanase: Digests xylans, indigestible structural carbohydrates in plant cell walls, for improved access to gluten peptides
Suggested Dosage and Use:
Take 1-2 capsules before a meal containing grains or dairy or as directed by your qualified health care provider.
Supplement Facts
Gluten FREE
Serving Size:1 Vegetarian Capsule
APS
%DV
Amylase
7500 DU
*
Beta-glucanase
22 BGU
*
Cellulase
1200 CU
*
Glucoamylase
20 AGU
*
Hemicellulase
750 HCU
*
Lactase
500 ALU
*
Xylanase
400 XU
*
BioCore DPP IV
110 mg
*
Protease
550 DPP IV
*
Protease
33000 HUT
*
Protease
9.4 AP
*
*Daily Value not established.
Ingredients: Microcrystalline cellulose and magnesium stearate. Vegetarian capsule made from plant cellulose. Contains NO common allergens.
More About MRM Gluten FREE
Proteins consist of single or multiple polypeptide units, which are long chains of amino acids connected through peptide bonds. Peptides are short chains of amino acids that occur during the breakdown of polypeptides chains into amino acids. Sensitivity to rye, wheat, barley, and dairy can be attributed to the incomplete digestion of certain peptides found in gluten and dairy protein. These partially digested peptide fragments can lead to inflammation of the intestinal lining, bloating, malabsorption, and/or gut permeability.
Dipeptidyl peptidase IV (DPP IV) is one of the enzyme activities necessary for the breakdown of these peptides. Gluten FREE's protein digesting blend contains three proteases that combined exhibit 550 DPP IV, 33,000 HUT, and 9.4 AP units that effectively breaks down these peptides.** Carbohydrate digesting enzymes, a crucial addition to any gluten digesting supplement, facilitates the breakdown of the starches and fibers that surround the gluten protein. Lactase has also been added to further aid in milk lactose digestion.
*Not intended to diagnose or treat diseases or ailments, and is not reviewed by the FDA.
Uses & Indications.
Providing DPP IV Enzyme Activity
Aiding Gluten And Dairy Consumption
Relieving Digestive Discomfort
Ailments & Concerns.
Lactose Intolerance
Celiac Disease
Poor Digestion
Food Sensitivities
Compare to these:
---
Questions and answers:
Asked on:
March 5, 2013
Question: I have Celiacs does this work for people with this diease?
A: This product provides support for gluten and dairy consumption. Celiac sufferers have a hard time digesting gluten so this product may provide some help.
Explore More Products