Efa Gold Coconut Oil (16 oz)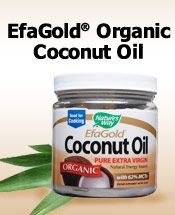 EfaGold Coconut Oil from Nature's Way is certified Organic, Non-GMO, Pure extra virgin, Cold pressed, Hexane-free, Unrefined, Non-bleached, has Zero trans fat and Zero hydrogenated fat.
Coconut oil can be taken as a dietary supplement, used for cooking or used for skin & hair care
Coconut oil is a natural energy source because it contains MCTs (medium chain) "good fats" the body uses to produce energy. As a dietary supplement, Coconut oil is a good addition to physical activity, exercise and weight loss programs.
Benefits:
Great to use for Cooking
Increases Energy 
Promotes Skin and Nail Health
Promotes Hair Growth
Helps with Belly Fat Loss
Suggested Use:
As a supplement, take 1 tablespoon 1-4 times daily. May be used as a spread or added to salad dressings & smoothies.
For cooking use in place of butter, margarine, shortening or other cooking oils for baking or frying in temperatures up to 350 degrees.
For skin care use as a moisturizing lotion. Place jar in warm water to liquefy, then massage small amounts onto the skin.
For hair care use as a conditioner. Place jar in warm water to liquefy then apply 2 teaspoons to hair 1 to 2 hours before washing.
Supplement Facts
EfaGold Coconut Oil
Serving Size: 1 tbls.
 
APS
%DV
Calories
130
 
Calories from fat
130
 
Total Fat
14g
22%**
Saturated Fat
13g
67%**
Polyunsaturated fat
<0.5g
*
Monounsaturated fat
<1g
*
Medium Chain Fatty Acids
9g
*
Lauric Acid
7g
*
Caprylic Acid
1g
*
Capric Acid
994mg
*
**Daily Value not established
 
 
Ingredients: Organic Extra Virgin Coconut Oil
Certified Organic by OCPP/Pro-Cert.
Product of the Philippines.
**Based on 2000 calorie diet.
SKU: SN0783290 /15673
UPC: 33674156735
Distributed or manufactured from Nature's Way. See more
Nature's Way
products.
Login for Details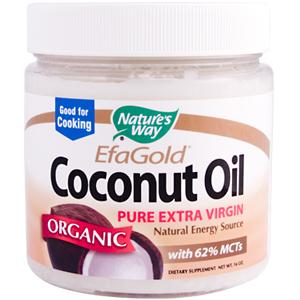 FREE SHIPPING
*Not intended to diagnose or treat diseases or ailments, and is not reviewed by the FDA.
Uses & Indications.
Belly Fat Loss
Energy
Hair Growth
Moisturizing Skin
Improving Skin Tone
Smoothing Skin
Ailments & Concerns.
Dry Skin
Rough Skin
Belly Fat
Psoriasis
Cracked Skin
Hair Loss
Eczema
Compare to these:
---
Questions and answers:
Asked on:
May 28, 2013
Question: Is the plastic container that EFAgold coconut oil comes in BPA chemical free?
A:

Natures Way packaging materials (bottles, caps, and seals) are chosen for their safety, efficiency, and purity. Their packaging vendors certify that no bisphenol A (BPA) or phthalates are used in package processing, nor are they part of the raw materials used to manufacture the containers for our supplements.
Reviews
Monday 28 November, 2011
I am very satisfied with this product, this oil is high-quality and that's what matters the most for me. Truly pure and organic! and of course delicious too!
Wednesday 02 February, 2011
I take 3 teaspoons of coconut oil in the morning to raise my metabolism, helping me to keep excess weight off my body. It also helps to prevent Alzheimer's. After I shampoo, I use it as hair oil. I also put some on my face to minimize wrinkles. I put some on my feet to keep the itching from athlete's feet away. My dauhter uses it to minimize acne.
Wednesday 22 September, 2010
I use the Efa Gold to accelerate my metabolism (I cinched up my belt three holes in three months which is approximtately three inches), to clear up acne in my daughter, for psoriasis and eczema patients, as hair oil rather than the chemically-based hair oils sold in stores and to eliminate athlete's feet.
Tuesday 07 September, 2010
If you take 3 teaspoons of the Efa Gold in the morning, no more , no less, it will regulate your metabolism. If you are over 40, and overweight, it will help you lose weight. It is also great for those with athlete's feet. Apply it deirectly to the feet or to the smin if you have psoriasios or eczema. I also use it on my hair rather than chemical hair lotions.
Tuesday 22 June, 2010
Compared to the other brands, EFA Gold is a much better product. It doesn't have the coconut taste as do other coconut oils, it comes in a plastic, non-breakable container and it comes in the right size. The glass contrainers, besides being breakable, are too small. I have tried several other brqnds but the EFA Gold is my personal favorite.
Thursday 12 November, 2009
This oil works well and it is one of the more reasonably priced coconut oils. It melts in the cereal and it tastes good, too.
Wednesday 21 October, 2009
I have been taking three spoonfuls of coconut oil in the morning and have lost three inches off my waist in the past three months. I also use the coconut oil on the skin of my psorisis patients. I have stopped using store-bought hair oil and use only natural coconut oil. It's the best stuff I have even had on my hair.
Tuesday 25 August, 2009
I love this product. I eat it in my oatmeal. I have noticed my skin is soft and I have more energy. Great price also!
Sunday 11 May, 2008
One of the things I use this coconut oil for is to condition my hair. I work it through and shampoo and condition as normal. It leaves my hair really silky.
Thursday 01 November, 2007
Having experienced "chronic fatigue" for sometime, needed an energy boost in order to get through the day. I had read about certain oils which when taken in moderation, could act as an energy source. I decided to try the EfaGold coconut oil, since it was all natural with no added chemicals. After about a week of daily use (teaspoon in my morning decaf tea) I felt more awake without the harmful effects of additional cups of coffee. In addition to the energy factor, the oil helped reduce my overall cholesterol by 15 points......
Wednesday 27 June, 2007
Efa Gold Coconut Oil is by far the best coconut oil I have found. The quality is the best and the price is low. Thank you Seacoast for offering quality products at low prices. A++
Explore More Products
Cures and side effects for Efa Gold Coconut Oil have not been reviewed by Seacoast, nor the FDA. Individual results will vary. Contact a healthcare professional if you have questions about using Efa Gold Coconut Oil.