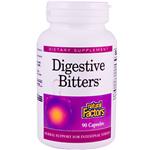 Full price 18.95
Savings 18%
Digestive Bitters (90 Caps) | Parasite Formula
| | |
| --- | --- |
| | Sorry! This item has been discontinued. See below. |
90 Capsules
Do not allow your intestines to succumb to parasitic intestinal stress. Surveys show that approximately 10 percent of North Americans struggle with one or more parasitic infections. Parasites can invade the human body in many ways; consuming raw or undercooked meat, raw fish (sushi), or other types of tainted food and water are a few ways a human may pick up a parasite. Parasites leech the host of vital nutrients and pose many other health threats.
Digestive Bitters, formerly Parasite Formula by Natural Factors, has been formulated by Natural Factors' scientific research team and comprises the most effective herbal bitters to combat parasitic, bacterial, fungal, and yeast infections. Digestive Bitters combines several strong herbs all in one easy-to-take capsule, sparing the palate of any unpleasant bitterness.
Benefits:
Combats Parasitic Invasions
Cleanses Digestive Tract
Fights Bacterial Infections
Fights Yeast Infections
Anti-Fungal
Potent Herbal Remedy
Suggested Use:
1 capsule, 3 times daily with meals or as directed by a health professional. Keep out of reach of children.
Contains no artificial colors or sweetners; no corn, dairy, soy, wheat or yeast
Supplement Facts:
Serving Size: 1 Capsule

%DV
Barberry (Berberis aristate) (15% Berberine) (stem)

150 mg
**

Gentian (gentiana lutea) extract 4:1 (root)

25 mg
**

Grapefruit (Citrus paradisi) extract 7:1 (seed)

25 mg
**

Oregano (Origanum vulgare L.) extract (30% Carvacrol) (leaf)

25 mg
**

Wormwood (Artemesia absinthium L) extract 4:1 (herb)

25 mg
**

Quassia (Picrasma excelsa) extract (bark)

20 mg
**

Cloves (Syzgium aromaticum) extract 4:1 (buds)

10 mg
**
Other Ingredients: Gelatin capsule (gelatin, purified water), rice powder, magnesium stearte (vegetable grade) silica
*Not intended to diagnose or treat diseases or ailments, and is not reviewed by the FDA.
Uses & Indications.
Enhancing Immune Function
Eliminating Yeast
Increasing Absorption
Ailments & Concerns.
Candidiasis
Ringworm
Parasitic Invasions
Compare to these:
Reviews
Thursday 25 October, 2007
It's the best remedy I have ever used to eliminate the all parasites from my body. I recommend this item if you want to clean your immune system.
---
Questions and answers:
Asked on:
January 14, 2013
Question: How would you plan on taking it?How much would you take?Good idea?No.Read below:Precautions and tioicxty of elemental iodineElemental iodine is an oxidizing irritant and direct contact with skin can cause lesions, so iodine crystals should be handled with care. Solutions with high elemental iodine concentration such as tincture of iodine and Lugol's solution are capable of causing tissue damage if use for cleaning and antisepsis is prolonged.Elemental iodine (I2) is poisonous if taken orally in larger amounts 23 grams of it is a lethal dose for an adult human.Iodine vapor is very irritating to the eye, to mucous membranes, and in the respiratory tract. Concentration of iodine in the air should not exceed 1 mgmb3 (eight-hour time-weighted average).When mixed with ammonia and water, elemental iodine forms nitrogen triiodide, which is extremely shock-sensitive and can explode unexpectedly.[edit] Toxicity of iodide ionExcess iodine has symptoms similar to those of iodine deficiency. Commonly encountered symptoms are abnormal growth of the thyroid gland and disorders in functioning and growth of the organism as a whole. Iodides are similar in tioicxty to bromides.[citation needed]Excess iodine can be more cytotoxic in the presence of selenium deficiency.[50] Iodine supplementation in selenium-deficient populations is, in theory, problematic, partly for this reason.[30][edit] Iodine sensitivitySome people develop a sensitivity to iodine. Application of tincture of iodine can cause a rash. Some cases of reaction to Povidone-iodine (Betadine) have been documented to be a chemical burn.[51] Eating iodine-containing foods can cause hives. Medical use of iodine (i.e. as a contrast agent, see above) can cause anaphylactic shock in highly iodine-sensitive patients. Some cases of sensitivity to iodine can be formally classified as iodine allergies. Iodine sensitivity is rare but has a considerable effect given the extremely widespread use of iodine-based contrast media.[52]
Asked on:
January 16, 2013
Question: Iodine is NOT a natural aniitbotic it is a trace mineral and one has to be careful not to take too much. Grapefruit seed extract is actually one of the best natural aniitbotics because it does kill bacteria, viruses, fungus, and some parasites however, it also kills good bacteria, so make sure that you go on probiotics once finished with them. Another good natural aniitbotic is garlic but the dispute there is that the compounds in garlic change as it is processed and there was no clear outline at what antiviralantibacterial compounds remained after processing. I find that grapefruit seed extract does work a lot better. You can also buy homeopathic aniitbotics at good health food stores .
Explore More Products