Joint Health (90 caps)*
Ultra Laboratories & Emerald Laboratories present a comprehensive group of Gluten-Free, Condition-Specific, Raw Whole Food-Based Nutritional Supplements. Completely Free of Additives, Fillers, Magnesium Stearate. All natural, High quality and 100% pure for your health.
Joint Health - 90 capsules
Therapeutic dosages of BioCell Collagen II, Glucosamine Sulfate and Opti MSM supporting:
Joint Mobility and Reduce Stiffness
Cartilage & Connective Tissues
Suggested Use: Take three capsules divided throughout the day with or without food
Benefits from this formula by Dr. Mark Stengler include:
BioCell Collagen II with naturally occuring Hyaluronic Acid
Opti MSM - Proprietary Distillation-Processed MSM
1500 mg of Glucosamine Sulfate - clinical dosage outlined in research studies
Supplement Facts
Joint Health
Serving Size: 3 capsules
 
APS
%DV
Glucosamine Sulfate (2KCl)
1500mg
 
BioCell Collagen II ® (25mg Hyaluronic Acid, 50mg Chondroitin Sulfate)
250mg
 
 
 
 
Opti MSM ® (distillation processed)
500mg
Grapeseed Extract (95% OPC's)
50mg
 
Tumeric Root Extract (95% Curcuminoids)
100mg
 
 
 
 
Pomegranate Extract (40% Ellagic Acid)
50mg
 
Ginger Root Powder
50mg
 
Bioperine
2.50mg
 
Raw Whole-Food Proprietary Blend
100mg
 
Raw Whole Food Sprout Powders (Alfalfa, Quinoa, Mung Bean, Millet & Brocolli - containing 3500ppm sulfurophane), Raw Plant Enzyme Blend (Lipase, Lactase, Invertase, Protease, Hemicellulase, Cellulase, Alpha-Galactosidase, Amylase, Bromelain, Papain, Acid-Stable Protease, Maltase), Raw Probiotic Blend (Acicophilus DDS-1 Strain  200 million CFUs, B. BifidumÃÂ 200 million CFUs),Whole Food Pomegranate Juice Powder, Raw Whole Food Freeze-Dried Acai Powder, Whole Food Goji Fruit Extract, Whole Food Mangosteen Hull Powder, Whole Food Noni Fruit Powder, Fructo-Oligosaccharides, Whole Food Chlorella Powder, Whole Food Spirulina Powder, Resveratrol (Standardized from Polygonum Cuspidatum)
 
 
* Percent Daily Value based on a 2000 Calorie diet.
ÃÃÂÂÃÂ Percentage Daily Value not established
Other Ingredients: Vegetable capsule, Tocotriene Complex.
Gluten-Free, Condition-Specific, Raw Whole Food-Based Nutritional Supplements
Emerald Laboratories products are formulated by Dr. Mark Stengler - Author of "Prescription for Natural Cures" and "Prescription for Drug Alternatives".
"Therapeutic doses with clinical results" - Dr. Mark Stengler
Why is our mission of being Additive-Free so important?
Additives have little or no nutritive value. The point of taking a dietary supplement is for the herbs or nutrients to fully be utilized by our bodies. Additives do not facilitate this process; they are not in the products for your benefit. The best supplements promote the quick and effective uptake of nutrients by your body.
Top 7 Reasons Why Emerald Laboratories is Superior
1. Raw Whole-Food Based Formulas for Enhanced Absorption & Bioavailability 2. Formulated by Dr. Mark Stengler
3. Therapeutic Doses with Clinical Results
4. 100% Additive-Free - No Magnesium Stearate
5. Gluten-Free Formulas
6. Purity Tested - cGMP Certified Facility
7. Every Product in Vegetable Capsules
SKU: em00227
UPC: 743650 00227 6
Distributed or manufactured from Ultra Laboratories. See more
Ultra Laboratories
products.
Login for Details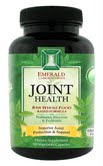 FREE SHIPPING
*Not intended to diagnose or treat diseases or ailments, and is not reviewed by the FDA.
Uses & Indications.
Reducing Discomfort From Sore Joints
Supporting Connective Tissue Health
Improving Flexibility And Mobility
Ailments & Concerns.
Joint And Muscle Discomfort
Anti-aging Formula For Joint And Muscle Health
Compare to these:
Explore More Products