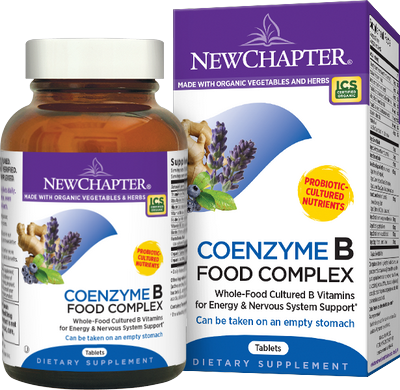 Full price 70.95
Savings 7%
Coenzyme B Food Complex (180 tablets)*
price

Price is

too low

to show. Add it to your cart

Buy 3 - Get free delivery on whole order
New Chapter Organics proudly provides you an organic probiotic alternative to isolated or USP vitamins and minerals. All of our vitamins and minerals are cultured in organic soy using nature's most prized and studied probiotics, featuring Lactobacilli acidophilus, bifidus, rhamnosus, and Saccharomyces cerevisiae. New Chapter's Probiotic Nutrients deliver bio-transformed vitamins and minerals in their finest cultured form, much in the same way as miso, kefir, temphe, and yogurt.
Coenzyme B Food Complex delivers 8 different nourishing probiotic vitamins as well as 11 stress-balancing, soothing and restorative herbs and mushrooms cultured for maximum effectiveness.* Herbs like American ginseng, hawthorn, and astragalus are revered for assisting adaptation to stress and supporting immune function.* The addition of supercritical ginger and turmeric extracts maximizes bioavailability and efficacy.*
Benefits:
Easy to digest, even on an empty stomach!
Delivering essential nutrients in their safest and most active form.
Providing an energizing and protective array of phytonutrients and ferment metabolites including:
cultured soy isoflavones, beta glucans, bacteriocins, glutathione, lipoic acid, and enzymes.
Multi B vitamin complex activated with all cofactors and coenzymes
Nourishing support for metabolic and nervous system function
Suggested use: Two tablets daily. Can be taken anytime, even on an empty stomach.
Supplement Facts
Coenzyme B Food Complex
Serving Size: 2 tablets
APS
%DV
Probiotics Nutrients
*
Thiamin-Vitamin B1
5 mg
333%
Riboflavin-Vitamin B2
9 mg
529%
Niacin
45 mg
225%
Vitamin B6
9 mg
450%
Folate
400 mcg
100%
Vitamin B12
120 mcg
2000%
Biotin
300 mcg
100%
Pantothenic Acid
45 mg
450%

Optimal Stress Response:
[Organic American Ginseng (root)
Organic Chamomile (flower)
Organic Eleuthero (root)
Organic Lavender (flower)
Organic Hawthorn (berry and leaf )]

63.6 mg

Immune Support Response:
[European Elder (berry) Extract
Organic Eleuthero (root)
Organic Astragalus (root)]

61.5 mg
Organic Spinach Powder
155 mg
*
Organic Lecithin (from sunflower in culture media)
132 mg
*
Organic Blueberry Powder
95 mg
*
Organic Turmeric (rhizome) powder (from culture media)
5.4 mg
*
Ginger (rhizome) hydroethanolic extract
3.2 mg
*
Organic Turmeric (rhizome) supercritical extract
1.6 mg
*
Organic Ginger (rhizome) supercritical extract
0.8 mg
*
*Daily value not established.
Other Ingredients: Culture media (organic soy flour [including isoflavones], organic gum acacia, organic Saccharomyces cerevisiae [active and inactive, including betaglucans], organic maltodextrin, organic orange peel powder, organic alfalfa powder, lactic acid bacteria [L. acidophilus, B. bifidum, L. rhamnosus], papain [deactivated], bromelain [deactivated] and organic molasses), organic gum acacia, silicon dioxide, lac resin, carnauba wax and maltodextrin.
Contains: Fermented soy and fermented wheat (as food source for Saccharomyces cerevisiae).†
† The wheat has been processed to allow this food to meet the Food and Drug Administration (FDA) requirements for gluten-free foods.
Naturally gluten free. 100% vegetarian. Contains no artificial flavors or colors.
Compare to these:
Explore More Products