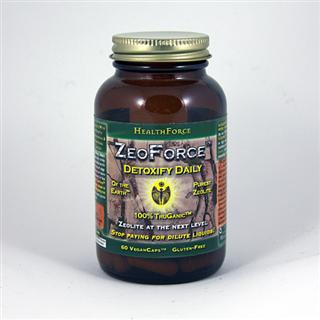 Full price 24.94
Savings 20%
ZeoForce (60 vegan capsules)*
This product has been discontinued.
Seacoast recommends an other excellent products by HealthForce Nutritionals. Click

Sorry! This item has been discontinued. See below.
ZeoForce takes zeolite to the next level with this exceptional vegan formula.
Stop paying for dilute, expensive liquids! 100% Pure! 100% Hardcore!
DETOXIFY DAILY!
ZeoForce is a non-toxic, deeply detoxifying, & alkalizing dietary supplement from Earth Clay that can be used internally and externally to help rid the body of toxins such as heavy metals, ammonia and other harmful chemicals and environmental substances*.
Benefits increase with continued usage. ZeoForce naturally holds a negative charge and will bond with toxins for safe and effective removal*. It can also be used externally for face & body masques, or added to your bath water for a detoxifying soak. ZeoForce is Clinoptilolite mineral CONCENTRATE micro reduced to the size red blood cells for optimum absorption and potency that diluted liquids simply cannot match.
Available now in both Powder and Capsules. Capsules can be opened and added to liquids. The zeolite cage in ZeoForce is 100% intact.
Cleansing Face/Body Mask: Mix 4 tablespoons to 4 teaspoons of water. You can also add one capsule of HealthForce CoQ10 and a drop of your favorite essential oil for additional benefits. Do NOT overdue the essential oil and test on a smaller area first to assure that it does not irritate your skin or eyes. Avoid the area around your eyes when applying. Spread a thin layer on your face and allow it to dry (about 15 minutes). Rinse thoroughly, using the ZeoForce to exfoliate. Follow with a moisturizer if your skin needs one. You can also expand this recipe for full body coverage (spread as thick as you wish).
Detoxifying Bath: Add 1/4 - 1 cup (or any quantity you desire) to your bath water for a deeply detoxifying soak. Do all 3 methods for the ultimate detox effect!
ZeoForce Technical Specs:
Mineral Component: Clinoptilolite
Overall surface area is greater than 250 Sq. Feet per Gram
Positively charged minerals: Potassium, Calcium, & Sodium
Magnetically purified & sanitized for ultimate purity
The most cost effective Zeolite on the market!
Supplement Facts:
Serving size: 2 VeganCaps
Amounts per Serving: ZeoliteÃÃÃ
*Not intended to diagnose or treat diseases or ailments, and is not reviewed by the FDA.
Uses & Indications.
Supporting Immune System
Removing Toxins
Ailments & Concerns.
Compare to these:
---
Questions and answers:
Asked on:
December 13, 2012
Question: How many capsules should I give my daughter aged 5 years with autism
Asked on:
January 14, 2013
Question: 1 1 people found fiowollng review helpful: Company Product, 4, 2010 a0D. Partridge d2k2p2 (St. George, UT USA) a0a0 Amazon Verified ( 's ?) review : Herbal Colon Cleanser Tonic Natural Cleanse 100 Capsules (Health Beauty)I issues digestion metabolism past few years within days taking Grandma's Herbs Natural Herbal Colon Cleanser Tonic Natural Cleanse 100 Capsules along withSUPER LAX Natural Laxative 100 Capsules I noticed a substantial bowel. I actually feel inside again. I even flushed a few extra pounds, nice. I recommend Grandma's Herbs products anybody looking over- -counter natural product. I hesitant first, I beginning realize natural herbs come earths natural resources fill gap natural deficiencies, unlike prescribed medicines, simply cover up issue until gets worse. luck everybody decides alternative route! customers find helpful reviewsa0 review helpful ?a0 a0Comment
Explore More Products