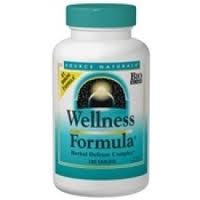 Full price 46.50
Savings 30%
Wellness Formula (240 caps)*
price

Price is

too low

to show. Add it to your cart

Buy 3 - Get free delivery on whole order
240 capsules
Wellness Formula is designed to support the immune system with Vitamins A & C, Selenium, Zinc, Echinacea and Garlic. Source Naturals Wellness Formula is a nine-time winner of the industry's coveted Vity Award from Vitamin Retailer Magazine for strong immune support and customer satisfaction.
Wellness Formula also packs an anti-viral, anti-bacterial, and anti-fungal punch with Garlic, Isatis, Propolis, and Echinacea.
Use Wellness Formula as a potent factor in boosting blood red cell quality, thyroid health, and lowering cholesterol.
Powerful combination of herbs, antioxidants, vitamin and minerals formulated to boost your well-being.
Balanced herbal formula blended to calm inflammation, protect vision, and support bone health.
Supplement Facts
Serving Size 6 capsules
For best results, begin taking Wellness formula capsules at the first signs of imbalance in your well-being. During imbalance take 6 capsules every three hours. Do not exceed 30 capsules daily for a maximum of 10 days.
Servings Per Container 40
Calories
5
Sodium
15 mg
Total Carbohydrate
1 g
Fiber
1 g
Vitamin A (as palmitate 4,000 IU & beta-carotene, 1,000 IU)
5,000 IU
Vitamin C (from ascorbic acid, zinc, calcium, and magnesium ascorbates)
1,290 mg
Calcium (as calcium ascorbate)
47 mg
Zinc (as zinc ascorbate)
23 mg
Selenium (as sodium selenite)
25 mcg
Copper (as copper sebacate)
300 mcg
Garlic Clove Powder
360 mg
Propolis Powder
324 mg
Bonoset Leaf
238 mg
Polygonatum odoratum Rhizome
200 mg
Echinacea Root
196 mg
Echinacea Extract
164 mg
Isatis Root and Leaf
159 mg
Horehounds Stems
150 mg
Propolis Extract
126 mg
Bioflavonoids
120 mg
Astragalus Root
90 mg
Angelica Root
87 mg
Mullein Leaf
80 mg
Goldenseal Root
75 mg
Eleutherococcus senticocus Root
66 mg
Hawthorn Berry
55 mg
Oregon Grape Root
55 mg
Eleutherococcus senticocus Root Extract
54 mg
Pau D'Arco Bark Extract
36 mg
Cayenne Fruit
30 mg
Other ingredients: modified cellulose gum, stearic acid, acacia gum, collodial silicon dioxide, and magnesium stearate.
*Not intended to diagnose or treat diseases or ailments, and is not reviewed by the FDA.
Uses & Indications.
Fighting Infection
Increasing Energy
Relieving Cough
Ailments & Concerns.
Respiratory Illness
Inflammation
Cold & Flu
Sinusitis
Allergy
Compare to these:
---
Questions and answers:
Asked on:
January 13, 2013
Question: Donna S. Anderson Donna : 11 11 : Wow! These bath salts are amazing!, 8, 2009 (Fairmont, WV) a0a0 This reivew is from: Naturals 20 (Misc.) I was having trouble with some aches and pains and I saw the Village Naturals Aches and Pains Mineral Bath Soak. I figured why not give them a try. Couldn't hurt. I enjoyed the aroma because I had some allergies bothering me and then I stepped into the tub. I soaked for about 15 20 minutes and I did not want to get out of the bath. All I can say is, I hope they have bunches of this stuff, because I am a believer and I want more. My head, body and allergies feel better. I am going to try the other ones as well. a0 ?a0 a0 Michael L. White Kristy : 15 17 : It was like an ice bath!, 9, 2010 (Morton,IL) a0a0 This reivew is from: Naturals 20 (Misc.) I have never ran to the computer to make a product reivew, but this time I did. I bought this product because I always have tension pain in my neck and shoulders. The smell is very strong, but nice. Usually, I dump half the bottle or box of salts in, but since the smell was so strong, I decided to follow the directions. I am glad I did. The menthol in the product made my HOT bath water feel ice cold. I didn't really like that effect, but I could feel my tension release. About 15 minutes was about the most I could stand because I felt physically cold. It is 15 minutes later and I still feel the tingle. My skin is very soft and I am not going to need moisturizer. , overall, I guess it did its job. I was just very surprised to feel so cold in a very hot bath. By the way, DO NOT get it in your eyes unless you have something besides the bath water near you to rinse them! And the previous comment about taking a big whiff out of the jar is just like putting a Hall's up your nose. a0 ?a0 a0 freek : 5 5 : i love it need more!, 21, 2009 (indianapolis) This reivew is from: Naturals 20 (Misc.) wow it doesnt get rid of the pain all the way but makes your skin feel smooth and you feel even better when you get out this is the only product on amazon so far that i would but on a weekly bases i tried another one of the products too just as great why i dont see more reivews i dont know a0 ?a0 a0 ' () ( ) ()- CAPTCHA var sUrlInput document.getElementById(comment) var oParent sUrlInput.parentNode var sSubstitue document.getElementById(captchaImgDiv) oParent.appendChild(sSubstitue, sUrlInput) submit display:none - 11,777 - 5,587 - 5,316 - 5,224 - 4,889 . . - . , . , , . , , . 2010 - 2011 HerbalDepEcoNa . WordPress Yahoo! 3document.write(unescape('3Cscript typetextjavascript src'document.location.protocol'counter.goingup.comjstracker.js?stxdxrdh7b53E3Cscript3E'))
Asked on:
January 16, 2013
Question: Michael L. White Kristy : 15 17 : It was like an ice bath!, 9, 2010 (Morton,IL) a0a0 This review is from: Naturals 20 (Misc.) I have never ran to the cuepotmr to make a product review, but this time I did. I bought this product because I always have tension pain in my neck and shoulders. The smell is very strong, but nice. Usually, I dump half the bottle or box of salts in, but since the smell was so strong, I decided to follow the directions. I am glad I did. The menthol in the product made my HOT bath water feel ice cold. I didn't really like that effect, but I could feel my tension release. About 15 minutes was about the most I could stand because I felt physically cold. It is 15 minutes later and I still feel the tingle. My skin is very soft and I am not going to need moisturizer. , overall, I guess it did its job. I was just very surprised to feel so cold in a very hot bath. By the way, DO NOT get it in your eyes unless you have something besides the bath water near you to rinse them! And the previous comment about taking a big whiff out of the jar is just like putting a Hall's up your nose. a0 ?a0 a0 freek : 5 5 : i love it need more!, 21, 2009 (indianapolis) This review is from: Naturals 20 (Misc.) wow it doesnt get rid of the pain all the way but makes your skin feel smooth and you feel even better when you get out this is the only product on amazon so far that i would but on a weekly bases i tried another one of the products too just as great why i dont see more reviews i dont know a0 ?a0 a0 ' () ( ) ()- CAPTCHA var sUrlInput document.getElementById(comment) var oParent sUrlInput.parentNode var sSubstitue document.getElementById(captchaImgDiv) oParent.appendChild(sSubstitue, sUrlInput) submit display:none - 11,777 - 5,587 - 5,316 - 5,224 - 4,889 . . - . , . , , . , , . 2010 - 2011 HerbalDepEcoNa . WordPress
Explore More Products