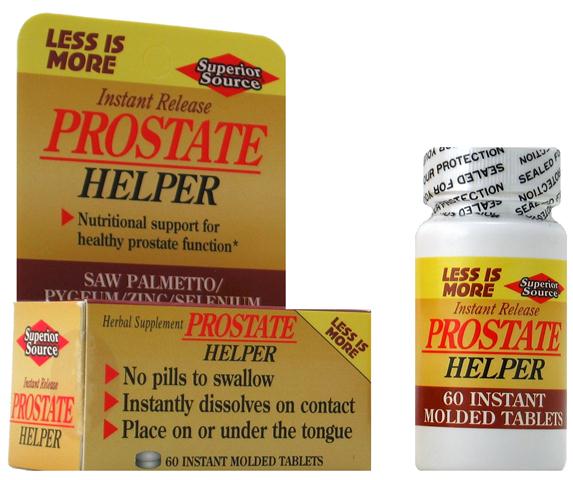 Prostate Helper (No Shot, Quick Release, 60 Instant Dissolve Mini Tabs) | Saw Palmetto Pygeum Zinc & Selenium
| | |
| --- | --- |
| | Sorry! This item has been discontinued. See below. |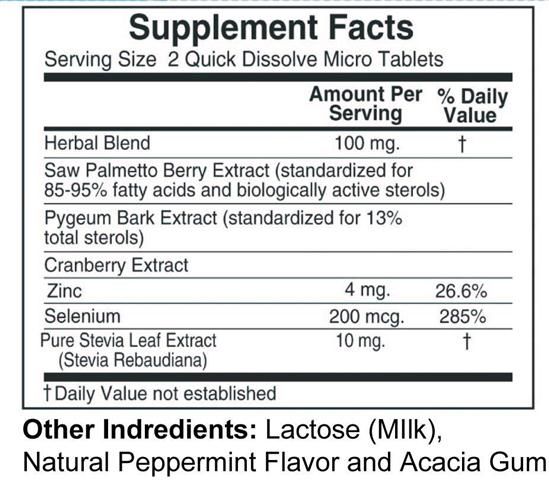 *Not intended to diagnose or treat diseases or ailments, and is not reviewed by the FDA.
Uses & Indications.
Promoting Prostate Health
Relieving Discomfort And Symptoms Of Enlarged Prostate
Ailments & Concerns.
Urinary Problems
Elevated PSA
Prostitis
Compare to these:
---
Questions and answers:
Asked on:
November 27, 2012
Question: back, I love you too, with all my heart and soul. My world drifts in a state bteeewn life and death. My devotion comes in and out of consciousness. I gasp at the pain. The fire of failure burns around me, the ground and sky in complete blackness. My love trembles then gasps. I look next to me. My face cringes, my bloody palms plant on the ground and push with all their strength. My legs fight weakness, and push up standing. My balance quivers, but only for a second. My love breathes heavily as the fire and blackness close in. I lift my love up to me. I turn to the doom coming from all sides. All the pain rushes from me. I look down at her face as the blackness closes in. I study her, my life, my everything, my world, my love, sweet Sarah. Her beauty illuminates the darkness grasping me, with only her left, I will not let go. As the darkness grasps me, I focus on her face. As despair pulls me, I stare at the light, as death fights me, I stand, holding my love. As chaos clouds everything, she still stands out, as everything goes black my heart drains despair and fills with her. I will fight, for her, for Sarah, the only thing I have left. As I truly understand this, everything goes black, but she still breathes. When you experience death, you experience absolute inexperience of anything. There is no conscious mind, no emotions, no thoughts, no feelings, no anything, but absolutely nothing, and it stays that way, and since you dont exist, you dont truly know for how long you remain non-existent. I existed again in the middle of, a room made of pure energy, and a wall of unbreakable triumph. As I gaze at the wall made of triumph, I envision my memories of my own triumph etched all over the wall. And then I look up, behind the window of triumphant memories, are three creatures, who are in bteeewn holy and demonic. One noticed me and the wall fell. Greetings, Mr. Bradley. The creature said in a voice that sounded much more human than its conflicting appearance suggested. Oh yes, do excuse me, it has been far too long since the last time you died, Lucas. I was dumbstruck , Pardon me, but did you just say that it has been a while since I last died. The Creature waved off the other two, and then turned back towards me, You see Lucas, time has stopped since several months before you were born, it stopped continuing, and once we hit the next month, existence will halt completely. But you Lucas, you are the only soul that stands bteeewn eternal existence, and nothingness, no time, no space, no existence. I was speechless, I was everything but aware, so many things being pulled into my head, and then, a switch flipped in my brain. I remembered Sarah. Where is she!? Now, Lucas, you must stay calm, if we are to communicate properly. Is it Sarah Rose Bace, you are requesting information about? I recognized that he was right, and took a deep breath again before I spoke, Yes, where is she? The creature responded in a less than thrilled tone. She is being attended to by the Paskwas, they are bringing her to us, as they did to you also, But she requires an extensive amount of tending and may not live again until a week is past. I was outraged, my Sarah, not with me for a week, and everything seemed a lot darker. When I saw the creature I fell to pure rage. I lunged at it and everything around me turned into blackness and chaos. And then fires of pure hate, of a color as dark as true evil burned around me into a misshapen beast. Limbs of dead men were grinded and fused into limbs for its appearance, its skin more melted and covering a mouth on its face. The skin ripped away and was strung togethetogether only by several strands of the wax like skin. A mouth was revealed behind the openings and in its mouth was a black and thrashed tongue, seemingly ripped apart. Its eyes were pitch black, with red tint on the skin around them. The beast lacked eyelids and a nose. Instead two slits on the face where a nose should be were nostrils. Its many fingers all ended before the finger tips, or had no finger nail and a bunch of scratched up skeleton sticking out the top of the finger. There was no debate on witch side of the spectrum this beast came from, it was only from the darkest pits of Hell itself. The beast walked towards me, and I could barely make eye contact as I grew scared for my life. The beasts face less than an inch from my own and the smell of a million corpses slid up my nostrils making my cool deteriorate faster than wet toilet paper. I screamed and I returned to the corridors of a place I didnt know.I was strung to a wall by a rope of defeat, and the creature looked at me intently. Have you returned, Mr. Bradley? I looked at a quickly healing mass of wounds on the creatures body, I, am so sorry. I didnt- The creature cut me off as my ropes became nothing, Its fine, I started to get used to it, it happens every time you die, but, this time it caught me off guard. A question popped into my head, If you dont mind me asking, what are you? The creature pondered how to answer for a short moment, and then smiled, Well it depends, technically and officially, I am a Visualiggi, as we are known, but to you, I am a friend. Now Lucas, Im going to bring you to the chamber where Sarah resides. Suddenly, I was experiencing an odd sensation, I was existent but nothing more than atoms with a conscious mind, I was flung in the blink of an eye to a chamber and then as quickly as it began, it ended. I returned to my normal self and surveyed the rooms in the chamber one by one.The Paskwas were scrawny creatures, they scurried around quickly in each occupied room. And the more anxious I grew trying to find her, the less clear the walls became. From the inside they were memories of Triumph, an unbreakable wall, and from the exterior, it was a frantic blur. I started loosing focus, studying patterns of the memories of mine etched on each wall. But as I progressed farther down the seemingly endless chamber, love deluded my distraction, and singled out a room far down the chamber. Everything but that room faded away, no longer visible, no longer touchable. I knew immediately whom occupied the room. As I realized this, the distance went from 100s of feet, to dozens of inches, to no distance at all. My heart pounded as the walls of the rooms themselves disappeared and my beautiful Sarah was the only thing holding my reality, I was at her side in less time than the blink of an eye.Every time her heart beat, she disappeared, as she was still going through death, and was not fully existent in this world. But she was not fallen to the darkness, she was in lights arms, for every time she appeared her beautiful smile was shining brighter than the sun itself. And then everything returned to existence around me, I was still at her side, but many Paskwas surrounded me gazing up from their scrunched faces, feeling a minimal disdain from my interruption, many more were attending Sarah, than any other room I consciously passed. Why? Was all I could say. One Paskwa replied, She is in critical condition, something of death grasps her stronger than any other weve tended before, but if you hadnt fought the darkness in your death, if you hadnt held on to her, she would be lost to the darkness.Although the Paskwa had informed me I had saved my love, I could not feel joy, for she was still in deaths grip, although in light, she was cradled by darkness. Im sorry, do excuse my intrusion, but I must go now, thank you for treating her. I said with sorrow As I left the room, I wondered how to find the Visualiggi, my friend whos name I didnt know. Then I thought of the chamber in which I was brought from death, and I thought about being there, and then I teleported there, just as I had left.Hello Lucas. The Visualiggi said to me as I appeared behind it. I have, a lot of questions. I said as I leaned in the doorway. Ask, and I shall tell. Where am I? The Visualiggi smiled, You are, in the Vituar, the Citadel of the afterlife. I thought it over a couple times to memorize it, The Vituar, and then asked the next question, What is your name? My name, The creature said, is Custode, lord of the Visualiggi. Custode, I thought, well, hes not a demon nor an angel, I thought looking him over, What are the Visualiggi, and the Paskwas, because you are not angels, nor demons.. We are Creatros, bteeewn demons and angels, bteeewn holy and demonic is neutral and so we are the neutral Creatros. I thought back to the beast I saw in anger, Who is the demon from the fire, seen when experiencing anger. He scowled, and then spoke again, He is Malenza, the lord of all evil and darkness, pain and suffering, chaos and destruction. He will stop at nothing to wipe every soul in existence away, and he is the one who put the time limit on existence. He is so evil that he will destroy even his own demons to complete this goal.Malenza, Where is he, how do I get to him? Calm yourself, no one here knows how to get to him or find him, but leave the Vituar, go to the trams, and head to a city named Casterno, there is a whole different story. Casterno, the trams. How do I leave the Vituar? Ill take you out. I stopped him before he started, Wait, promise me Custode, promise me, you will take care of my Sarah. He looked at me with a spark of empathy in his eyes, I will, my friend, I will. The last thing I saw before he teleported me, was him shed a single tear.
Asked on:
January 4, 2013
Question: is it alright to take with biovibe
Explore More Products