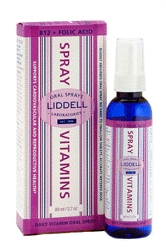 Full price 16.99
Savings 18%
Multi-Vitamin Spray (2.7oz)
| | |
| --- | --- |
| | Sorry! This item has been discontinued. See below. |
At last! A vitamin multiple you don't have to fight to swallow. Liddell has formulated Multi oral spray, a schmorgus board of vitamins essential to your health. Daily dosages of Liddell's Multi Spray Vitamin delivers 100% of the daily values recommended for the ingredients contained within.
Liddell's oral Multi spray is comprised of vitamins which are known to promote activity and growth, and allow the body to heal itself. In addition, Liddell's Multi spray vitamin may promote a stronger, healthier immune system. This vitamin packed spray may give your body a bit of an energy boost, and stimulate the mind for an ultimately efficient you.
Benefits:
Energy
100% daily recommendation
Immune system
Brain function


How Multi Works
Active Ingredients:
Vitamin A (retinyl palmitate) - Helps prevent premature aging; strengthens the optical system; builds immune resistance.
Vitamin C (sodium ascorbate) - Enhances the immune system; strong antioxidant; helps wounds heal; increases resistance to infections; maintains connective tissues and aids in the absorption of iron.
Vitamin D3 (cholecalciferol) - Necessary for utilization of calcium and phosphorus, and for the assimilation of Vitamin A; has a strong immune enhancing effect.
Vitamin E (d-alpha tocopherol) - Important antioxidant and immune stimulating vitamin; retards cellular aging; promotes function of a healthy circulatory system; effective anticoagulant and vasodilator against heart disease.
Thiamin B1 (thiamin mononitrate) - Helps nerves and mental attitude; assists carbohydrate utilization for energy and the nervous system; aids the function of the heart and cardiovascular system; enhances immune response.
Riboflavin B2 (riboflavin-5-phosphate sodium) - Necessary for energy production and for fat and carbohydrate metabolism; benefits eye health and vision; works with other B vitamins to promote healthy growth and tissue repair; promotes healthy skin.
Niacin B3 (niacinamide) - Supports sex hormone synthesis; assists food digestion; helps lower blood cholesterol; promotes healthy skin; assists circulation.
Vitamin B6 (pyridoxine hydrochloride) - Assists red blood cell generation, protein synthesis and carbohydrate metabolism in support of the immune system; supports nerve health; maintains healthy brain function.
Biotin - Vitamin B complex necessary for the metabolism of amino acids and essential fatty acids; helps form immune anti-bodies; necessary for absorption of Vitamin B12.
Pantothenic acid B5 (calcium-d-pantothenate) - Antioxidant vitamin vital to proper adrenal activity; aids natural steroid synthesis; essential for the metabolism of food; prevents arthritis and high cholesterol.
Stevia (stevia rebaudiana leaf) - This nutritious plant is suitable for people with diabetes and hypoglycemia because it contains no calories and does not affect blood sugar metabolism. Studies indicate that stevia can help support a healthy appetite.
How To Take Multi
Directions: Adults and children 4 or more years of age: Spray 8 times per day under the tongue: 4 sprays in the morning and 4 sprays in the evening. Children under 4 years of age: Spray 4 times per day under the tongue: 2 sprays in the morning and 2 sprays in the evening. Hold under the tongue for 20 seconds prior to swallowing. Shake prior to use.
Vitamin A
5000 IU

100%

Vitamin C
60 mg
100%
Vitamin D3
400IU
100%
Vitamin E
30 IU
100%
Thiamin (B1)
1.5mg
100%
Riboflavin(B2)
1.7mg
100%
Niacin (B3)
20mg
100%
Vitamin B6
2 mg
100%
Biotin
300 mcg
100%
Pantothenic acid (B5)
10 mg
100%
Stevia
1.25mg
+
Other Ingredient: Purified water, fructose, glycerin, citric acid, apricot flavor, potassium sorbate
*Not intended to diagnose or treat diseases or ailments, and is not reviewed by the FDA.
Uses & Indications.
Enhancing Immune System
Promoting Longevity
Promoting Well Being
Increasing Energy
Ailments & Concerns.
Constipation
Eating Disorders
Aging
Vitamin Deficiency Anemia
Compare to these:
Explore More Products