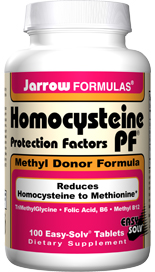 Full price 14.95
Savings 16%
Homocysteine PF (100 tablets)
| | |
| --- | --- |
| | This product has been discontinued. Seacoast recommends an excellent replacement. |
| | Sorry! This item has been discontinued. See below. |
Jarrow Formulas
Homocysteine PF (100 tablets)
Homocysteine PF� (Protection Factors) contains methyl group (CH3) donors from Methyl B12, TMG and Folic Acid, plus vitamin B6 for additional reduction of homocysteine.* Methyl groups convert homocysteine, a toxic amino acid, into methionine, which is an essential amino acid.* Methylation is inhibited by such factors as poor diet, smoking and genetic predisposition. Impaired methylation elevates homocysteine levels. Methylcobalamin (Methyl B12) is better absorbed, retained and utilized than cyanocobalamin, the typical form of vitamin B12.* Methylfolate transfers a methyl group to cobalamin to form Methylcobalamin via the enzyme methionine synthetase. Therefore, Methyl B12 is the most active and most important form of B12.*
Take 1 tablet per day with a meal, or as directed by your qualified health care consultant. Easy-Solv� tablets disintegrate within several minutes of ingestion.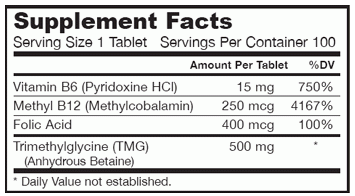 Reduces Homocysteine to Methionine*
Compare to these:
---
Questions and answers:
Asked on:
January 16, 2013
Question: Folic acid is a meythl donor in the body, your body uses meythl groups to keep your levels of homocystine lower than they would be otherwise. Homocysteine is what glues cholesterol together, which makes cholesterol more likely to glue up your arteries. So if your homocysteine levels are low, it's better for your heart because the blood vessels are less likely to be clogged with cholesterol paste, which would cause you to have a heart attack or, in the brain, a stroke. I guess that's the easiest way to explain it.
Explore More Products