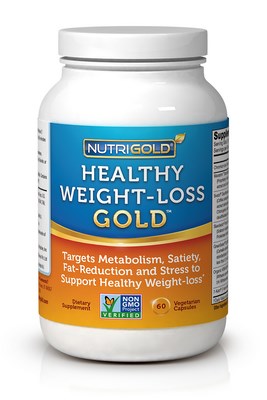 Full price 89.95
Savings 25%
Healthy Weight-Loss Gold (120 vcaps)
Boost your metabolism and lose weight naturally with a new and exclusive formula by NutriGold who sets a high bar for safe, sensible, and non-stimulant weight loss supplements. Featuring EIGHT clinically proven ingredients, including the clinically recommended dosages for:
Garcinia Cambogia Extract
Svetol Green Coffee Bean Extract
Green Tea Extract
7-Keto.
Healthy Weight-Loss GOLD targets the key areas associated with helping you meet your healthy weight loss goals: Metabolism; Fat Reduction: Satiety and Calorie Reduction; and Stress.
Healthy Weight-Loss GOLD delivers top-rated, multi-patented, clinically-proven ingredients at FULL dosages:
SuperCitrimax Garcinia Cambogia Extract for supporting satiety, calorie control, and fat reduction.
Svetol Green Coffee Bean Extract for enhancing fat breakdown and boosting sugar metabolism
GreenSelect Decaf Green Tea Extract for enhanced metabolism and antioxidant protection 7-Keto (DHEA Acetate 7-one) supporting metabolism through thermogenesis
Slendesta Potato Extract promoting satiety and reduced caloric intake
Meratrim Herbal Blend aiding fat reduction and hip and waist size management
KSM-66 Ashwagandha Extract helps manage stress-induced eating and food cravings
Nutrigold Healthy Weight-Loss Highlights:
Safe, Sensible, Smart, and Non-stimulant (less than 1% caffeine) approach to healthy weight loss
Formulated without the use of GMO's, additives, binders, artificial ingredients, preservatives, Stearates, Sulfates, Laurates, and Dioxides
Verified free of allergens by an independent, third-party lab
Verified free of GMOs by the Non-GMO Project
Manufactured to stringent cGMP standards in the USA
Directions: As a dietary supplement, adults take two (2) vegetarian capsules 2 times daily (4 per day) at least 30 minutes before your 2 largest meals of the day with 12 oz of water, or as directed by a healthcare professional.
Supplement Facts
Weight Loss Gold
Serving Size: 2 vegetaian capsules
APS
%DV
Calcium
(as Hydroxycitrate from SuperCitrimax®)
50 mg
5%*
Chromium
(as Chromium Polynicotinate from ChromeMate®)
200 mcg
167%*
Potassium
(as Hydroxycitrate from SuperCitrimax®)
70 mg
2%*
SuperCitrimax® Garcinia Cambogia Extract
(Garcinia cambogia [fruit rind] extract
standardized to 60% Hydroxycitric Acid (HCA))
500 mg
Meratrim Standardized Extract
(Blend of Sphaeranthus indicus [flower heads]
extract standardized to 5% 7-hydroxyfrullanolide
and Garcinia mangostana [fruit rind] extract
standardized to 10% alpha-mangostin)
400 mg
Svetol® Decaffeinated Green Coffee Extract
(Coffea canephora robusta Pierre [unroasted beans]
extract standardized to 50% Polyphenols
45% Chlorogenic Acids, 10% 5-Caffeoylquinic Acid
and decaffeinated to less than 2% caffeine)
200 mg
Slendesta® Potato Standardized Extract
(Solanum tuberosum [tubers] extract
standardized to 5% Proteinase Inhibitor II)
150 mg
GreenSelect® Decaffeinated Green Tea Extract
(Camellia sinensis [young leaf] Phytosome®
extract standardized to 19-25% Polyphenols
13% EGCG, and less 0.1% caffeine)
150 mg
Organic KSM-66® Full Spectrum Ashwagandha Extract
(Withania somnifera [root] extract
standardized to 5% Withanolides)
150 mg
7-Keto®
(7-oxo-dehydroepiandrosterone acetate)
100 mg
*Percent Daily Values based on a 2,000 calorie diet
Daily Values not established
Other Ingredients: Vegetarian Capsule (Plant Cellulose). Contains a milk derivative (KSM-66®) and a soy derivative (Phytosome®).
Does NOT contain GMOs, additives, fillers, binders, artificial ingredients, preservatives, Stearates, Laurates, Sulfates, or Dioxides.
FREE of egg, peanuts, shellfish and wheat.
SuperCitrimax® is a registered trademark of InterHealth N.I.
7-Keto® is a registered trademark of Humanetics Corp.
Meratrimis exclusively distributed by InterHealth N.I.
Svetol® is a registered trademark of Naturex, Inc
GreenSelect® and Phytosome® are registered trademarks of Indena S.p.A
Slendesta® is a registered trademark of Kemin Industries, Inc
KSM-66® is a registered trademark of Ixoreal Biomed Pvt. Ltd.
ChromeMate® is a registered trademark of InterHealth N.I.
*Not intended to diagnose or treat diseases or ailments, and is not reviewed by the FDA.
Uses & Indications.
Managing Satiety And Reducing Caloric Intake
Boosting Fat Reduction
Supporting Healthy Sugar Metabolism
Ailments & Concerns.
High Blood Sugar
Weight Gain
Compare to these:
---
Questions and answers:
Asked on:
July 24, 2015
Question: Can I use this product if I have high blood pressure? Will it help with cholesterol?
A: Thank you for your interest in Healthy Weight-Loss Gold with 8 clinically-proven, multi-patented stimulant free ingredients. Unlike many weight-loss supplements, Healthy Weight-Loss does not have any cardiac or central nervous stimulating effects in the body. Healthy Weight-Loss may help you start on a path to a lifestyle of healthy eating, regular physical activity, while helping reduce your daily caloric intake. Using Healthy Weight-Loss Gold may help decrease those cravings for foods high in cholesterol. Eating foods low in cholesterol will not only, help reduce high cholesterol levels, but enhance your weight loss program.
Asked on:
September 8, 2015
Question: If you have liver problems is it safe?
A: Healthy Weight Loss-Gold contains several herbs that provide a non-stimulating approach to weight loss. One questionable ingredient for those with liver issues may be the decaffinated green tea extract. The US pharmacopia governs the public- standard-settings for all drugs, both prescription and over the counter, dietary supplements and other health care products manufactured and sold in the United States. In 2008 the USP committee decided to defer a cautionary label on products which include green tea extract. Research has not been found at this time whether amounts of green tea extract in moderation have an adverse effect on the liver. Healthy Weight-Loss Gold includes green coffee extract to help break down fat and help boost metabolism. Research has shown that moderate use of green coffee may play a role in lowering the risk of developing a range of liver diseases. Too much of any supplement may have negative effects on our bodies, including our liver. Supplementing is helpful to replace vitamins and minerals that our body may be lacking. The ultimate goal is to strive to eat a healthy diet full of fruits, vegetables and drink plenty of water to help flush the toxins out of our body.
Explore More Products