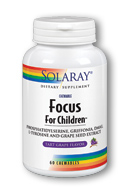 Full price 17.09
Savings 23%
Focus for Children (60 Chewable Tabs)
Solaray Focus for Children (60 Tabs) is a brain support tablet for children. This product is designed to give the brain an added boost that helps promote focus and productivity. Additionally, Focus for Children is formulated to be safe and effective for children. The ingredients of the tablets have all been shown to be effective in support of the brain, especially Phosphatidylserine. Phosphatidylserine has been found in large quantities in the brain and is known to be a key ingredient of cell membrane.
This product contains 60 chewable wafers. Improve your child's focus with this amazing product.
Helps Children Focus
Brain Support
Safe and Effective
Contains Phosphatidylserine
Suggested Use: Use only as directed. Chew one chewable 1-2 times daily with a meal or glass of water. Store in a cool, dry place.
Supplement Facts
Focus for Children
Serving Size:1 tablet
APS
%DV
Calories
5
Total Carbohydrate
1 g
<1%
Phosphatidylserine Concentrate (from Lecithin) (Supplying 10 mg Phosphatidylserine)
25 mg
Griffonia simplicifolia (bean)
50 mg
DMAE (as Dimethylaminoethanol Bitartrate)
25 mg
L-Tyrosine
25 mg
Grape (Vitis vinifera)) (seed extract) (Supplying 9.5 mg [95%] Polyphenols, including Oligomeric Proanthocyanidins [OPCs])
10 mg
Other Ingredients:Sorbitol, Xylitol, Blueberry (fruit), Natural Flavors, Guar Gum, Stearic Acid, Silica, Citric Acid and Stevia (leaf extract).
*Not intended to diagnose or treat diseases or ailments, and is not reviewed by the FDA.
Uses & Indications.
Improving Focus
Calming Nerves
Improving Memory
Ailments & Concerns.
Memory Loss
Hyperactivity
ADHD
ADD
Compare to these:
Reviews
Thursday 17 September, 2009
This product has proven itself in my home to me amazing!!! My son started Kindergarden about 3 weeks ago. He's constantly came home with bad marks or "sad" faces for his conduct report. He was staying punished and in trouble all the time between school and home. I was feeling horrible about this, but came to realize that he's not being difficult on purpose, but can't really control what's happening in his brain when he misbehaves like he does. He was very fidigity, and constantly making noises in school. Nothing major, but very distrubing to his teacher and classmates. I had a total meltdown when his teacher mentioned that in the near future we should consider getting him checked out by a doctor. I knew that meant that she's feeling he has some sort of medical diaganosis to explain his behaviors. I couldn't bear the thought of putting my 5 year old on chemical meds for something that may not need them. I was then researched about Focus for Children. Upon starting this supplement, we have all noticed instant results with his behavior and attention span. He's doing amazing at school. This is his first week on Focus for Children and has a perfect conduct report. His teacher is beside herself with the positive results we've recieved from this also!! I'm now going to keep my cabinets stocked up with Focus for Children, as I learened it's very popular and our local health food stores have a very hard time keeping up with the demand!!!
Wednesday 06 May, 2009
Since going off Adderal long ago in High school I've been on this vitamin. It is amazing! Whenever I start to think I've out grown it and don't need it anymore because it is just a supplement; I realize once going off that my concentration problems come back in a month or so. I'm now 25 and have been using since 16. It is an amazing pill, but like all vitamins takes about 4 weeks before you see any results. Kids will be kids, discipline is a difficult thing to instill in them sometimes. But for focus this has been more than helpful.
Thursday 05 February, 2009
Please, has anyone else had no so positive affects with this? My son loves to play, even in class, so I started him on this three (3) weeks ago in hopes that it would help him in school. He has brought home more disciplanary marks since he started on this than he has since school began. THere are other factors that have played into his behavior (I have lost my job and he is turning 6 next week and is excited about his party), but I don't know if these tablets are contributing to the ill behavior. Help... from a frustrated mom...
Friday 18 January, 2008
My friend reseachers everything and she has a son who is ADHD. I thought my son was and have taken him in several times to be tested. My girlfriend told me about all these teas that she has been given to her son, well we went out and got the tea and was looking for one more that we could not find at the Vitamin store we came across Focus for Children and while she was reading the back of the bottle she stated that all the tea that we were looking for had the same ingredients as this stuff. I bought 2 bottles. I can say that i started a few days ago and I can see a difference in my child. He is actually thinking instead of acting first and he is a calm when he speaks instead of outburst. I think that I am going to buy enough to have until he turns 18... He is now 10. Since he loves taking vitamins he actually takes then himself in the AM and then again after his night time shower without me reminding him. (they are chewable and grape). This works for me. I was getting fustrated that my son was fustrated at school and not being able to think and do the work that we both knew that he could do. PS he got a 100% for the first time on his spelling test this week!
---
Questions and answers:
Asked on:
December 10, 2012
Question: my son is on 20 mg Prozac will this supplement mix with the too?
A: Thank you for your interest in Focus for Children, Please consult with your physician to find out if this product will mix safely with your sons Prozac prescription.
Asked on:
January 31, 2013
Question: My son has ADHD and ODD, would like to know if this product will be effective for him, has a lot of trouble at school his behaviors is worst every day....pls help....
A: Focus for Children is a safe way to help children with memory, focus, and brain support.
Asked on:
February 24, 2013
Question: My daughter is 8 years old and is taking Aderal for ADD and Zoloft for anxiety. Is it ok if I add this product and start minimizing the Aderal? Will it be ok if she keep taking the Zoloft?
A: I do not see any direct warnings on this product, however it is always recommended to consult with your physician when thinking about adding supplements or minimizing prescription use when you have medical conditions
Asked on:
February 25, 2013
Question: my son is 15 years old, does this work for children as old as my son, please let me know, he has been taking focusfactor for kids for about 1 month.
A: There is no specificity as to an age limit and this is a safe way to help him with the brain support and focus he may need.
Explore More Products