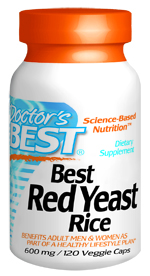 Full price 24.99
Savings 55%
Best Red Yeast Rice (600 mg 120 vegi capsules)
This product has been discontinued.
Seacoast recommends an excellent replacement. Click here.

Sorry! This item has been discontinued. See below.
Doctor's Best - Science Based Nutrition
Best Red Yeast Rice
Red yeast rice (RYR) is the product of yeast (Monascus purpureus) grown on rice. It is a major item of trade in some Asian countries. It is made of many compounds that are known as monacolins, which prevent the build-up of cholesterol. One of these, "monacolin K," is a potent inhibitor of HMG-CoA reductase, and is also known as mevinolin or lovastatin (Mevacor®, a drug produced by Merck & Co., Inc).
Best Red Yeast Rice contains rice that has been naturally fermented with red yeast (Monascus purpureus) according to traditional methods. Produced in the U.S., this product is similar to red yeast rice that has been used in culinary applications in Asia since at least 800 A.D. It is considered beneficial for adult men and women when taken as part of a lifestyle program that includes regular exercise and a healthy diet.
Benefits:
High Cholesterol
Coronary Heart Disease
Potential Benefits in Diabetics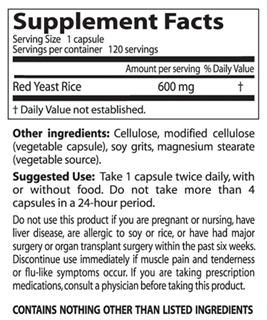 Compare to these:
Explore More Products