Doctor's Best - Science Based Nutrition
SAM-e 400, Double Strength
Doctor's Best Double-Strength SAMe 400 contains 400 mg of active SAMe in each tablet. Doctor's Best utilizes only the highest quality Italian SAMe available on the market. This ensures that you receive the most potent SAMe product with the highest percentage of the active S,S form per serving, bar none.
S-Adenosyl Methionine (SAMe) is derived from the amino acid methionine and is one of the most important methyl donors in the central nervous system. Methylation (donation of methyl groups) is an essential process in ensuring the proper function of a number of organ systems. SAMe is involved in numerous biochemical reactions in tissue including the liver, joints and brain. SAMe is also required for the biosynthesis of critical neurotransmitters and hormones.
Enhances Mood and Neural Function
Supports Liver Health and Detoxification
Promotes Joint Comfort and Mobility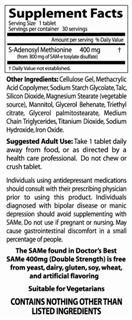 Compare to these:
---
Questions and answers:
Asked on:
October 31, 2013
Question: Does this product contain Mannitol? I am looking for enteric Sam e without Mannitol in blister packs.
A: Yes this SAM-E supplement does contain mannitol. The majority of SAM-e supplements do contain mannitol however we do carry one that does not by Now Foods that is also enteric coated however it is not in the blister packs. You can take a look at it with the link below. http://www.seacoast.com/sam-e/now-foods/30-tablets-400-mg/p3675
Explore More Products