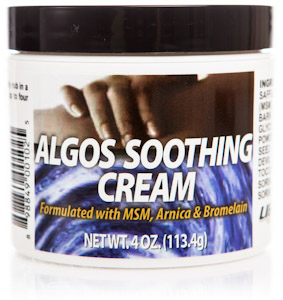 Full price 35.95
Savings -17%
Algos Soothing Cream for Pain Relief (4 oz)
| | |
| --- | --- |
| | Buy 3 - Get free delivery on whole order |
Algos Soothing Cream for Pain Relief (4 oz) | Optimal all natural relief
Algos pain relief Cream is a topical treatment with penetrating liposomes to carry the active ingredients directly and deeply to the painful area, providing quick active relief from muscular pain, inflammatory rheumatic afflictions of the joints, sport accident related strains, contusions and sprains. It also helps relieve the symptoms of osteoarthritis, rheumatoid arthritis, neck or low back sprain/strain, whiplash, and some types of nerve pain (including relief from Fibromyalgia).
Our formula is also very effective for increasing mobility and range of motion at the area of stiffness. Topical administration allows for direct absorption and because the stomach and GI tract are bypassed there is no stomach upset. Algos has proven tremendous for the relief of pain and inflammation. Spine and Pain Specialists Recommend the use of Topical Pain Relievers
Studies have shown that when formulations are delivered topically – as much as 95% reach the target cells (e.g. muscles). Results from oral preparations delivered to a targeted site of pain are less than 5% (1).
Cream base makes application easy and controllable.
Pain relief is faster than with oral Ibuprofen.
Symptoms are alleviated at a steady rate and relief may last longer.
Drugs delivered topically may need to be applied less frequently and in smaller amounts.
Formulations diffuse through the skin and enter into the bloodstream, initially bypassing the liver, stomach, and digestive system (called "first pass"). Many systemic (whole body) side effects, such as irritated stomach lining , may be diminished or eliminated.
Benefits Include:
Relief of Backache, Muscle Pain, Sprains and Strains, Arthritis
Reduces Pain, Swelling and Inflammation
Increases Mobility and Range of Motion
Pain Relief is Faster than with Oral Ibuprofen
Does not Cause Stomach Upset like Ibuprofen Tablets
Offers Relief from Symptoms Associated with Fibromyalgia
Directions:
For external use only. Gently rub in a thin coat of cream to the desired area. Repeat up to four times daily with 3-4 hours between applications.
Ingredients:
Water, Polyacrylamide, Safflower Seed Oil, Dimethyl Sulfone (MSM), C13-14 Isoparaffin, White willow Bark Extract, Bromelain, Caprylyl Glycol, Aloe Barbadensis Leaf Gel Powder, Evening Primrose Oil, Hemp Seed Oil, Arnica Floewr Extract, Devils Claw Root Extract, Lecithin, Tocopherol, Laureth-7, Potassium Sorbate, Mandarin Orange Peel Oil, Sorbic Acid, Lidocaine.
A Note from Libido Edge Labs dated June 15, 2012
Dear Customer,
We want to bring your attention to (the recent) label changes for our product line. These labels have been reviewed by the FDA for compliance purposes.
Our products have always been made of the highest quality ingredients and we remain committed to being leaders in Anti-Aging
Sincerely,
Libido Edge Labs, LLC
Get your edge back! High Quality, Safe and Effective Nutritional Supplements That Help You Maintain an Active Lifestyle and Enjoy Good Health
*Not intended to diagnose or treat diseases or ailments, and is not reviewed by the FDA.
Uses & Indications.
Relieving Pain And Inflammation Naturally
Ailments & Concerns.
Sore And Painful Joints And Muscles
Compare to these:
Reviews
Thursday 09 February, 2017
My husband has suffered with pain and inflammation for several days in his shoulders from heavy lifting of lumber before he started using this cream. He has noticed the swelling and pain has subsided. He said he does not want to be without this product.
Thursday 17 November, 2016
I suffer from joint pain and take Curamin which works well. a friend told me about Algos and the combination of Curamin and the topical cream really relieves my pain. My mobility has increased and Algos is all natural. I highly recommend this cream for anyone who suffers from pain and inflammation of the joints or muscles.
---
Questions and answers:
Asked on:
July 30, 2013
Question: my doctor gave me a cream with these ingredients in it, for my knees. pretty expensive. do you have over the counter cream? free samples?
A: We do not have any free samples but all of our supplements and creams can be purchased without a prescription online through our website.
Asked on:
February 17, 2013
Question: Can this product be used in tender genitals?
A: Algos pain relief Cream is a topical treatment that provides quick active relief from muscular pain, inflammatory rheumatic afflictions of the joints, sport/ accident related strains, contusions and sprains. It may also help provide relief from osteoarthritis, rheumatoid arthritis symptoms, as well as neck or low back sprain/strain, whiplash, and some types of nerve pain (including relief from Fibromyalgia). For uses other than directed by the manufacturer, please consult with your physician for their recommendations.
Asked on:
February 9, 2017
Question: Is this product effective with Rheumatoid Arthritis?
A:

Rheumatoid Arthritis sufferers know all too well the discomfort associated with this disease. Rheumatoid Arthritis is referred to as an autoimmune disease that causes pain and inflammation not only in the joints but other areas of the body as well.

Algos

Soothing Cream helps reduce symptoms of pain, swelling and stiffness.

Algos

unique botanical ingredients help increase mobility and range of motion where it is needed most.This safe and effective topical formula includes all natural botanical herbs and oils that penetrate deeply to the area needed for fast relief.
Explore More Products