ThreeLac* (60 Packets)
GHT - Global Health Trax
ThreeLac Probiotic | The Original GHT Probiotic
For over a decade this superior product has provided selected beneficial microflora to the intestinal tract for the purpose of replenishing needed friendly flora to promote intestinal health. Packaged in individual sachets with a pleasant lemon taste, Threelac fits conveniently into your active lifestyle. ThreeLac is a powerful probiotic formulation of three potent microflora in a lemon-powder base. Each packet contains over 1.5 billion live bacteria. Probiotics are a valuable part of a healthy diet, and may play an important role in sustaining overall intestinal health. The prevalence of intestinal imbalances makes a focus on probiotics essential. Prevention of imbalance before it occurs is clearly the better alternative. Probiotics may be a safe, cost-effective, "natural" approach that may help act as a barrier against microbial infection.
ThreeLac Active Ingredients:
Bacillus coagulans: A probiotic organism that may help control occasional digestion and stomach problems.
Bacillus subtilis: A probiotic organism that may help crowd out "bad" flora in the intestines.
Enterococcus faecalis: The Enterococci constitute a major genus within the lactic acid bacteria group, and exists naturally in the human digestive tract. This effective probiotic bacteria is the result of formulation under strict laboratory conditions.
Directions: Take one packet a day to start. Empty packet into your mouth and follow with a few ounces of water, or add to a few ounces of water and drink. Build gradually to a higher number of packets until you begin to notice improvement. Packets may be taken any time of day, with or without meals. After 60 days, may reduce to a maintenance amount of 1-2 packets per day, if desired. Store in cool, dry location.
Supplement Facts
Threelac
Serving Size: 1 packet (1500 mg)
 
APS
%DV
Calories
6
 
Total Carbohydrate
1 g
<1%
Sugars
0 g
 
Vitamin C (as ascorbic acid)
75 mg
125%
Vitamin B6 (as pyridoxine)
.4 mg
20%
Vitamin B1 (as thiamine)
.4 mg
27%
Vitamin B2 (as riboflavin)
.4 mg
23%
Probiotic Blend 
 
 
Bacillus subtilis (500 million CFU), Enterococcus faecalis
 
 
(500 million CFU), Bacillus coagulans (500 million CFU).
 
 
Percent Daily Value (DV) not established.
 
 
Other Ingredients: Refined Yeast Powder, Dietary Fiber as Galactomannan,
 
 
Fructo-oligosaccharides (FOS), Beta Cyclodextrin, Erythritol, Lemon Juice Powder, Canola Oil.
 
 
Contains a maximum of 30 ppm casein (an ingredient derived from milk).
 
 
 
 
 
Friendly flora perform a number of constructive functions in the intestinal tract. One main function is to help prevent occasional good/bad flora imbalance. The "good" flora do this by crowding out the "bad" in the intestinal tract. Some common indicators of flora imbalance may be:
Melancholy
Anxiety
Irritability
Relief of occasional heartburn
Relief of occasional indigestion
Lethargy
Food and environmental allergies
Lactose intolerance
Acne
Dry skin
Itching
Occasional jock itch
Vaginal health
SKU: 104100
UPC: 816663007504
Distributed or manufactured from Global Health Trax. See more
Global Health Trax
products.
Login for Details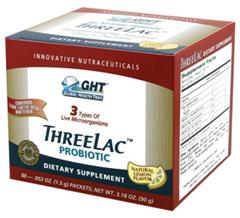 FREE SHIPPING
Compare to these:
---
Questions and answers:
Asked on:
April 26, 2013
Question: My husband uses this product and loves it. My question is, how much can I give to my cat? He has had digestive issues ever since he had three weeks of antibiotics.
A: I'm glad to hear your husband really likes this product. To be on the safe side, please consult with a veterinarian so that they can provide you the right dose and let you know if it will be safe for your cat. 
Explore More Products
Cures and side effects for ThreeLac have not been reviewed by Seacoast, nor the FDA. Individual results will vary. Contact a healthcare professional if you have questions about using ThreeLac.