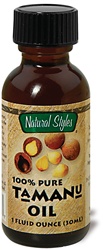 Tamanu Oil (100% Pure | 1 oz)
Natural Styles
100% Pure Tamanu Oil
The sacred oil of Tahiti, Tamanu Oil, has gained the world's attention due to a combination of effective use in traditional settings and scientific research supporting its traditional uses. Natural Styles produces and sells only pure, unadulterated Tamanu Oil. Our price is the most attractive on the market for 100% Pure Tamanu Oil. (Don't be fooled by other Tamanu Oil offers, most have other oils mixed in.)
Tamanu Oil possesses a unique capacity to promote the formation of new tissue, thereby accelerating wound healing and the growth of healthy skin. This process is known as cicatrization. For this reason, it is a widely used traditional topical aid and can also be used for burns.
Tamanu Oil has anti-inflammatory activity, as well. This activity is due partly to the 4-phenyl coumarin calophyllolide [Bhalla, T.N. et al. Calophyllolide: a new nonsteroidal anti-inflammatory agent. Indian J. Med. Res. November, 1980; 72: 762-5] and a group of xanthones in the oil. All the xanthones in tamanu Oil show anti-inflammatory activity, which makes it effective for rashes, sores, swellings and abrasions.
Very little Tamanu Oil is needed as it takes just a few drops to cover the affected skin area. Apply a few drops of Tamanu Oil to the skin with your fingers. Gently rub it into your skin. It penetrates very quickly to the lower skin layers and leaves no oily shine. You may notice its mild, nutty fragrance which will dissipate rapidly.(Tamanu will naturally relax and soothe the area being treated)
When used as a cosmetic moisturizer, it is recommended that you first thoroughly cleanse your face, hands or other skin areas, then apply a few drops of Tamanu Oil to your hands and massage the oil into your skin.
For use as a natural nightly moisturizer, wash your face to remove all other substances. Leave your face and hands damp. Put 2 to 3 drops of Tamanu Oil in your hands and rub together to spread the oil. Then rub your hands on your face skin and massage the oil into your skin - being careful not to get the oil in your eyes or mouth.
Tahitian women also apply a few drops of Tamanu Oil to their hair after shampooing. It adds an attractive, natural sheen to the hair.
Features of Natural Styles 100% Pure Tamanu Oil:
100% Pure - Nothing added
Cold Pressed
Wild Grown, Sustainable and Earth Friendly
Ingredients: 100% Pure cold pressed Tamanu Oil.
Tamanu Oil is excellent for:
Skin Abrasion
Burns & Cuts
Acne & Pimples
Hemorrhoids
Skin Moisturizer & Hair Conditioner
Warning: People with allergies to nuts of any kind should not use Tamanu Oil.
Storage and Shelf Life:
Tamanu Oil has a shelf life of up to 5 years when properly stored in cool dry place and out of direct sunlight. It is ideal to store the bottle of Tamanu Oil you are frequently using between 70Á F (21Á C) and below 125Á F (52Á C). and out of direct sunlight. Do not freeze the Tamanu Oil. Our glass bottles have an amber color tint which help protect the oil from sunlight.
100% Pure Tamanu Oil will "separate" or form layers when left stationary. This is normal and some "sediment" is to be expected with 100% Pure Tamanu Oil. If no sediment at all occurs, the oil may be diluted by mixing in other oils or the Tamanu Oil was heated above 150Á F. and "processed" to remove the elements that cause the "sediment." Temperatures over 145Á cause damage to the enzymes found in the Tamanu Oil.
Tamanu Oil will also turn cloudy when it is exposed to temperatures below 70Á F. This normal and does not hurt the effectiveness of the Tamanu Oil. To clear the Tamanu Oil up, place the sealed bottle of Tamanu Oil in 115Á water for about 20-30 minutes and then shake the bottle. You should notice the Tamanu Oil become a single color again. Be careful not to get the Tamanu Oil over 135Á F as higher temperatures may damage the enzymes in the Tamanu Oil.
*Not intended to diagnose or treat diseases or ailments, and is not reviewed by the FDA.
Uses & Indications.
Wild Crafted & Sustainable
Cold Pressed
Anti-Inflammatory
Promotes Healing Of Damaged Skin
100% Pure
Ailments & Concerns.
Burns Or Cuts
Hemmorhoids
Skin Abrasion & Rashes
Acne
Compare to these:
Explore More Products