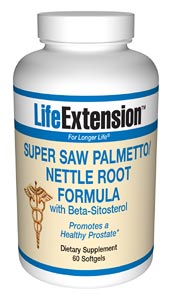 Full price 28.00
Savings 25%
Super Saw Palmetto/Nettle Root Formula *(60)
price

Price is

too low

to show. Add it to your cart

Buy 3 - Get free delivery on whole order
Life Extension Super Saw almetto/Nettle Root could be your natural approach to prostate health. Saw Palmetto and Nettle Root have been found to be very effective in helping to reduce the inflammation associated with an enlarged prostate. It is most commonly used to treat benign prostatic hyperplasia.
Many men struggle with miserbale symptoms due to an enlarged prostate. Saw Palmetto and Nettle Root can help to normalize urination. It can improve sexual function and reduce prostate pain.
Benefits
Normalizes urination
Improves sexual function
Promotes prostate health
All-natural
Supplement Facts
Serving Size 1 Softgel
Amount
%DV

Asked on: January 13, 2013
Question: This is an updated edoiitn of what has been the best laymen's book on prostate cancer, something that one of three men will experience in their lifetimes. But prostate cancer is not a death sentence or anywhere close if it's diagnosed early, evenin aggressive cases.Survival ratesfor those caught in the early stages are nearly 100 percent i.e. no recurrence in five years. Walsh is from JOhns Hpkins, considered to be leader in prostate cancer and urlogy generally. Don't wait until you get prostate cancer to find out something about it, because if you don't ever have it, someone you know will. It will hep if someone knows something about it who isn't in a panic. In the meantime, make sure you follow reasonable advice on being tested. There are alternative treatments bt there's a number of variables.You'll find most of it here. And ou'll get some idea of what you should look for from your own doctor including whether you need a second opinion or another physician. The oter good news is that there are prostate cancerns where treatment can be delayed indefinitely. It's just that most of us aren't qualified to make that judgement. Buy it. Read it.


Asked on: January 16, 2013
Question: That's a skillful answer to a difficult qseutoin


Asked on: January 25, 2013
Question: doseage


Asked on:

June 4, 2013

Question: I am trying to compare with CVS, Super Beta Prostate and other products. Can you give me a comparison chart?

A: I can provide you a little more information on Life Extensions Super Saw Palmetto/Nettle Root Formula. The

saw

palmetto

berry (Serenoa repens) is rich in bioactive, high-molecular weight compoundsincluding beta-sitosterol. It has been shown to interfere with DHT activity in the prostate, inhibit alpha-adrenergic receptor activity (to support normal urinary flow), and help control inflammatory actions in the prostate gland.

11-13

DeepExtract™ is a patented, state-of-the-art, ultra-high pressure CO2 extraction technology that ensures the most complete bioactive extract profile available that most closely reflects the composition of premium, mature

saw

palmetto

berries. The result is a superior formula containing key ingredients in higher concentrations than many other extracts.

16

These naturally occurring substances are left behind by more widely used low-pressure CO2 extraction techniques. DeepExtract™ ensures the most desirable and complete bioactive extract profile available. The result is a formula that most closely resembles the composition of premium, mature

saw

palmetto

berries. Super

Saw

Palmetto

/Nettle Root Formula with Beta-Sitosterol combines the USPlus

®

saw

palmetto

CO2 DeepExtract™ with a nettle root extract (Urtica dioica), boron, and rosemary to support a healthy prostate.

8-13,44,45,59-68

Testosterone converts to estrogen at higher rates as men age. Prostate cells are sensitive to estrogen's growth stimulatory effects. Nettle root helps support prostate cells against the excess estrogen levels.

8

This

saw

palmetto

extract has been standardized to contain 85% free fatty acids and sterols. The phytosterol complex contains a natural ratio of concentrated plant sterols derived from vegetable and seed oils such as soybean, rapeseed, sunflower seed, and corn. I hope this additional information helps you in making your decision.

Explore More Products




1. Statements and claims on Seacoast.com have not been evaluated by the FDA and are not intended to treat or diagnose any ailment or disease.