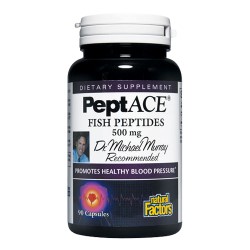 Full price 39.95
Savings 30%
PeptACE Peptides (90 caps)*
price

Price is

too low

to show. Add it to your cart

Buy 3 - Get free delivery on whole order
Natural Factors' PeptACE Peptides is a mixture of nine peptides (proteins) and comes from a fish in the tuna family. It works to effectively and naturally lower blood pressure. PeptACE Peptides inhibits the production of a compound called ACE that increases the constriction of blood vessels.
Many Americans suffer from high blood pressure and other problems that are related to high blood pressure. It causes severe health problems, and sometimes death. Improve your circulatory system function, lower your blood pressure, and enhance your overall health with PeptACE Peptides. PeptACE has no known side effects and is safe and effective.
Improves overall health
Lowers blood pressure
Supports a healthy circulatory system
PeptACE is Safe
Natural
PeptACENo side effects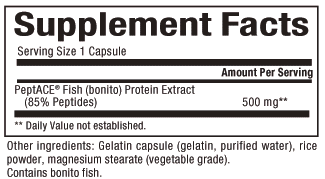 Suggested Use:1 capsule, up to 3 times per day or as directed by a health professional.
*Not intended to diagnose or treat diseases or ailments, and is not reviewed by the FDA.
Uses & Indications.
Lowering Cholesterol
Increasing Blood Flow
Lowering Blood Pressure
Ailments & Concerns.
Hypertension
Arteriosclerosis
Heart Disease
Compare to these:
Reviews
Wednesday 13 January, 2010
Peptace was recommended to me by my naturopath to control high blood pressure. I told her I would do anything to avoid medications. In the last year I have found it to be extremely effective combined with a healthy diet and lifestyle. I can attribute my lower blood pressure numbers to this product because when I stopped taking it for two months thinking I could do without it, my pressure became quite high once again. I highly recommend this product.
Thursday 30 July, 2009
PeptAce has been beneficial in keeping my borderline high blood pressure under control so that I could avoid using prescription medication.
Saturday 09 May, 2009
I immediately and noticeably feel the tightness in my neck disappear with PeptACE. It lowers my Blood Pressure to normal levels within a day of taking the first dose.
Tuesday 26 August, 2008
The drug the doctor prescribed had serious side effects so I began using this supplement. My pressure remains within the safe area but one must take it religiously.
Friday 25 April, 2008
Celery seed combined with Peptides is supposed to help control hypertension so since this is a product by a reputable company and at a good price, thought I'd give it a try.
Monday 10 September, 2007
PeptAce has been beneficial in keeping my borderline high blood pressure under control so that I could avoid using prescription medication.
Thursday 28 June, 2007
When stress in teaching caused my blood pressure to rise to a level that I had to take my blood pressure on a daily basis by doctor's order, I knew that the next step would be prescription medication. In my effort to avoid prescription blood pressure medication, I started taking PeptACE two years ago. My blood pressure is currently within the normal range, which I credit to PeptACE as well as lifestyle changes, and I will continue to use this product.
---
Questions and answers:
Asked on:
November 6, 2012
Question: What does Peptace cost in Ontario Canada
Asked on:
November 6, 2012
Question: What does peptace cost in Canada
Asked on:
April 8, 2013
Question: I take 5mg amlodopine. Can i take peptace with it to lower bp
A: I do not see any direct warnings on this supplement against any medical condition or prescription medicine however if you do have additional concerns we recommend you consulting with your physician as they are familiar with your medical history and background.
Asked on:
June 27, 2016
Question: How effective is this tuna pill for primary hypertension? Left untreated my BP can go over 210110...I welcome any and all information on how I can get off my prescriptions....Thanks!
A: Fish Peptides have been shown to inhibit ACE (Angiotensin Converting Enzymes). ACE is an enzyme that indirectly increases blood pressure by causing blood vessels to constrict. Fish peptides are composed of a purified mixture of 9 small peptides (protein) derived from the muscle of the fish bonito ( a member of the tuna family).These peptides help relax the blood vessels and dilate artery walls supporting cardiovascular health as well. According to Dr. Michael Murray formulator of PeptACE, three clinical studies have shown significant blood pressure lowering effects in people with high blood pressure (hypertension) after using PeptACE with no known side effects. It is not recommended that you stop taking your blood pressure medication unless advised to do so by your physician. PeptAce can be taken in conjunction with medication if deemed appropriate by your Doctor. If appropriate, after 2 weeks your physician may see an improvement and stabilization of blood pressure in a normal range and reduce medication.
Explore More Products