SoCal Cleanse
Organic Protein & Detox Powder
SoCal Cleanse Organic Protein & Detox Powder is ideal for detoxifying and cleansing. Not only does our hemp protein powder contain toxin-busting fiber but it's also easily digested, it won't leave you bloated, and it contains a blend of herbs specifically formulated to promote healthy digestion and cleansing. Additionally, SoCal has added a potent blend of superfruits like lucuma, maca, and bilberry.
Protein & Detox feeds your body while you're cleansing to ensure proper nutrition. Who likes feeling tired, grumpy, lethargic, and hungry? That's what happens when your body becomes nutrient deficient, an unfortunate and common occurrence with programs that limit you're your diet. Instead, why not saturate your body with healthy raw, certified organic superfruits, phytonutrients, omega fatty acids, cleansing herbs, fiber, vitamins and minerals?
With all of the goodness found in Protein & Detox you can expect benefits like:
Weight loss
Increased energy
Important nutrients while you detox
Healthy, glowing skin
Shinier and stronger hair and nails
Vitamins like B1, B2, B3, C & E
Powerful antioxidants to reduce the signs of aging
Minerals including calcium, magnesium, iron, potassium, and zinc
Controlled blood sugar levels while you cleanse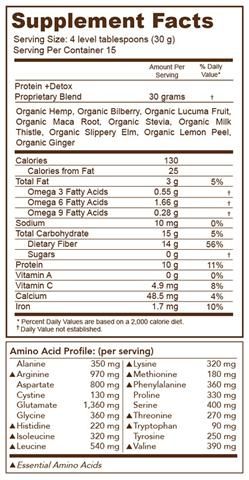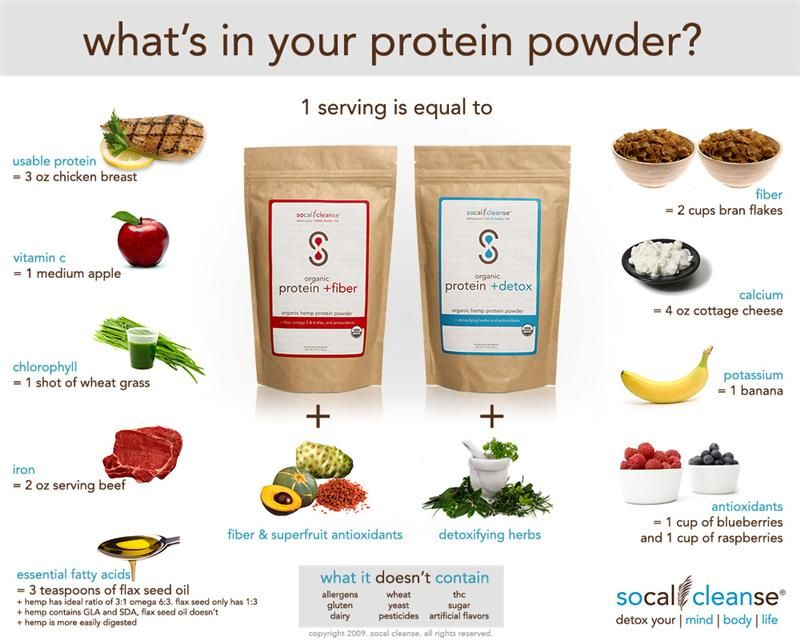 Compare to these:
---
Questions and answers:
Asked on:
November 24, 2012
Question: will it remove THC
Asked on:
January 13, 2013
Question: How long do u take the protein powder
A: Thank you for your interest in Organic Protein & Detox. There is no indicated amount of time to take this product. The serving size is 4 level tablespoons.
Asked on:
March 18, 2013
Question: Are there any health issues or side affects that occur during this product?
A: There are no stimulants or chemicals and this supplement is easily digested and gentle on the stomach and best of all organic. I do not see any warnings on this product.
Asked on:
March 19, 2013
Question: can diabetics use socal organic Protein detox
A: This supplement is completely organic and contains only hemp, lemon peel, goji berries, lucuma, maca, stevia, milk thistle, slippery elm, and ginger. There is not added sugars. If you have any medical conditions and are unsure if the ingredients are suitable for you, please consult with your physician before starting.
Explore More Products