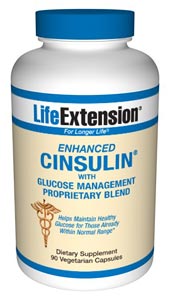 Full price 38.00
Savings 25%
Cinsulin with Insea2 and Cromi Nex 3 (90 vegetarian capsules)*
price

Price is

too low

to show. Add it to your cart

Buy 3 - Get free delivery on whole order
Dietary carbohydrates are nearly impossible to avoid in today's "grab-and-go" world. The result? Countless aging Americans find themselves under assault from excess glucose calories. Even health-conscious, active people can experience higher-than-desired blood sugar levels as they age. Life Extension® now offers an enhanced, all-natural, multipronged approach to this challenge, called CinSulin® with Insea2™ and Crominex® 3+.
Excitement has been building among researchers around the world over the clinically demonstrated power of a novel form of cinnamon to support healthy glucose metabolism. Scientists at the US Department of Agriculture have been quietly studying it for more than a decade.1,2 Government experts have been amazed by compelling in vitro results documenting its ability to induce a twenty-fold increase in sugar metabolism.3
Studies in humans have proven just as impressive. In a recent double-blind, placebo-controlled clinical trial,4 a group of maturing individuals (average age 61) taking 500 mg per day of the cinnamon extract contained in the new CinSulin® formula experienced an average decline of 12 mg/dL in fasting blood glucose after only two months. This novel cinnamon extract also produced a significant decrease in after-meal glucose spikes (an average of 32 mg/dL) after ingestion of 75 g of carbohydrates!
An objective of those who practice calorie restriction is to maintain fasting glucose levels at around 80 mg/dL of blood and after-meal glucose spikes to no greater than 40 mg/dL. CinSulin® may help more longevity enthusiasts accomplish their glucose control objective.
The danger with cinnamon is the presence of naturally occurring, toxic fat-soluble compounds known as aldehydes. Life Extension® has identified a highly purified "type-A" water-soluble cinnamon extract using a patented process that eliminates these dangerous toxins.
Researchers have known of the many health benefits of seaweed extracts for years. Only recently has it come to light that a proprietary form of seaweed extract called InSea2™ blocks the action of glucosidase and amylase—enzymes your body uses to break down carbohydrates into glucose, facilitating its transport into the bloodstream.
Derived from brown seaweed and bladderwrack, a single 500 mg dose of this proprietary compound triggered a 48.3% decline in after-meal blood sugar spikes in a recent double-blind, placebo controlled trial.5
Long known for its role in maintaining healthy glucose metabolism, chromium has been optimized with standardized extract of Indian gooseberry and a proprietary form of the adaptogen shilajit. The name of this most advanced chromium complex is Crominex® 3+. The Crominex® 3+ complex helps support:
Normal cellular glucose absorption

6-10

Healthy endothelial function

11,12

Healthy lipid and triglyceride levels

13-16

Normal cellular energy production

17,18
Combined with CinSulin® and Insea2™, the result is an unrivalled formula that affords optimal support for healthy glucose metabolism in aging individuals.

References
1. J Agric Food Chem. 2000 Mar; 48(3):849–52.
2. Phytomedicine. 2010 May 27.
3. J Agric Food Chem. 2004 Jan 14;52(1):65-70
4. FASEB J. 2010; 24:722.1.
5. J Metab. Submitted for publication.
6. Diabetes Res Clin Pract. 1995 Jun;28(3):179-84.
7. Diabetes. 1997 Nov;46(11):1786-91.
8. Ned Tijdschr Geneeskd. 2004 Jan 31;148(5):217-20.
9. Altern Med Rev. 2002 Jun;7(3):218-35.
10. Saudi Med J. 2000 Jan;21(1):45-50.
11. Br J Nutr. 2007 Jun;97(6):1187-95.
12. Yakugaku Zasshi. 2005 Jul;125(7):587-91.
13. J Ethnopharmacol. 2002 Jan;79(1):81-7.
14. J Nutr Sci Vitaminol (Tokyo). 2005 Dec;51(6):413-8.
15. Yakugaku Zasshi. 2007 Feb;127(2):385-8.
16. Indian J Exp Biol. 2001 Aug;39(8):760-6.
17. Indian J Exp Biol. 1997 Mar;35(3):297-9.
18. Phytother Res. 2007 May;21(5):401-5.
Supplement Facts
Serving Size 1 vegetarian capsule

Servings Per Container 90

Amount Per Serving

Iodine (typical value naturally occurring from Ascophyllum nodosum and Fucus vesiculosus)

37.5 mcg

Chromium [as Crominex® 3+ chromium stabilized with Capros® standardized Phyllanthus emblica extract (fruit) and PrimaVie® purified and standardized Shilajit]

133 mcg

CinSulin® Cinnamon (Cinnamomum cassia) water extract (bark) [standardized to 2.5% (4.375 mg) Type-A Polymers]

175 mg

InSea2™ [proprietary composition of demineralized polyphenols from brown seaweeds Kelp (Ascophyllum nodosum) and Bladderwrack (Fucus vesiculosus)]

100 mg

Other ingredients: rice flour, vegetable cellulose (capsule), vegetable stearate.

Contains rice.
This product contains NO milk, egg, fish, peanuts, crustacean shellfish (lobster, crab, shrimp), soybeans, tree nuts, wheat, yeast, gluten or corn. Contains NO sugar and no artificial sweeteners, flavors, colors, or preservatives.
Crominex®3+, Capros® and PrimaVie® are registered trademarks of Natreon, Inc.
CinSulin® is a registered trademark of Tang-An Medical Ltd., manufactured under US patent #6,200,569.
InSea2™ is a trademark of innoVactive™.

Dosage and Use
Take one capsule 20-30 minutes before each meal not exceeding three capsules daily, or as recommended by a healthcare practitioner.
Caution: Because this product may lower blood glucose, consult your healthcare provider before taking this product if you are taking blood glucose lowering medication.
*Not intended to diagnose or treat diseases or ailments, and is not reviewed by the FDA.
Uses & Indications.
Support Healthy Blood Sugar Levels
Ailments & Concerns.
Compare to these:
---
Questions and answers:
Asked on:
July 12, 2013
Question: What are the reported side effects?
A: The only warnings I see on this supplement is that it may lower blood glucose so it is best to consult with your healthcare provider before taking this product if you are taking blood glucose lowering medication.
Explore More Products