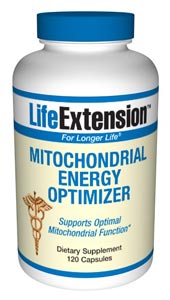 Full price 94.00
Savings 25%
Mitochondrial Energy Optimizer (120 capsules)*
price

Price is

too low

to show. Add it to your cart

Buy 3 - Get free delivery on whole order
LifeExtension- Nutritional Supplements, Antiaging, Health and Nutrition
Mitochondrial Energy Optimizer
The loss of cellular vitality is caused by a number of factors, including mitochondrial problems, glycation, and free radical reactions. Life Extension® members have access to a state-of-the art nutritional formula called Mitochondrial Energy Optimizer that helps protect delicate cellular structures and enables cells to perform life-sustaining metabolic processes.
Mitochondrial Energy Optimizer is designed to counteract age-related structural and functional changes by providing the following unique ingredients:
Carnosine
As humans age, proteins in their bodies become irreversibly damaged by glycation reactions. Glycation is the cross-linking of proteins and sugar to form nonfunctioning structures (advanced glycation end-products or AGEs) in the body, which can lead to alterations of normal cell function. Carnosine is not only a powerful antiglycating agent, but it also protects neurons against reactive and cytotoxic protein carbonyl species associated with normal aging.
Luteolin
Systemic inflammation is involved in most undesirable consequences of aging. Culprits behind chronic inflammatoryreactions are pro-inflammatory cytokines, such as interleukin-1and tumor necrosis factor alpha. Luteolin is a super-potent plant extract that has been shown to modulate these dangerous inflammatory cytokines.
Benfotiamine
Effectively modulates multiple destructive biochemical pathways, including AGEs' formation pathway, which are induced by higher than desirable blood glucose levels. Human mortality studies indicate that ideal fasting glucose levels are between 74–85mg/dL. Yet many aging people have fasting glucose above 90 mg/dL, which is less than optimal.

12-14

Benfotiamine protects endothelial cell integrity from the effects of high glucose levels. In addition, benfotiamine exhibits direct antioxidative capacity and prevents induction of DNA damage.
Pyridoxal 5'-phosphate
Aging is associated with the formation of advanced glycation endproducts throughout the body. Pyridoxal 5'-phosphate is the active form of vitamin B6 that has been shown to protect against both lipid and protein glycation reactions.
R-lipoic acid
Destructive free-radical activity in the mitochondria plays a major role in the loss of cellular vitality. A new microencapsulated Bio-Enhanced® R-lipoic acid facilitates youthful mitochondrial energy output while guarding against free radicals. Two forms of lipoic acid are sold on the supplement market, but R-lipoic acid is far more potent.
Acetyl-L-carnitine arginate
The amino acid L-carnitine is required to transport fats into the mitochondria to be burned for cellular energy. Acetyl-L-carnitine arginate is a patented form of carnitine that also supports neurites in the brain.
Supplement Facts
Serving Size 4 capsules

Servings Per Container 30

Amount Per Serving

Vitamin B6 (as pyridoxal 5'-phosphate)

100 mg

Sodium

25 mg

Carnosine

1000 mg

ArginoCarn® Acetyl-L-carnitine arginate dihydrochloride

700 mg

Benfotiamine

150 mg

R-Lipoic Acid (as microencapsulated Bio-Enhanced® stabilized Na-RALA sodium R-lipoate)

150 mg

Luteolin (high purity luteolin as Pureolin™)

8 mg

Other ingredients: gelatin, vegetable stearate, silica.

Contains soybeans.
This product contains NO milk, egg, fish, peanuts, crustacean shellfish (lobster, crab, shrimp), tree nuts, wheat, yeast, gluten, corn, or rice. Contains NO sugar, and no artificial sweeteners, flavors, colors, or preservatives.
Dosage and Use
Take two capsules twice daily, preferably early in the day or all at once upon wakening, or as recommended by a healthcare practitioner.
This product can be taken with or without food.
Compare to these:
---
Questions and answers:
Asked on:
June 9, 2013
Question: Does it interfere with any medications such as metformin, Crestor,Synthroid?
A: There are no direct warnings against using Mitochondiral Energy Optimizer with specific medications, however, as with any supplement it is recommended that you consult with your physician if you are taking any medicines.
Explore More Products