Doctor's Best - Science Based Nutrition
Best Vitamin D
Vitamin D3 (cholecalciferol) is a nutrient that is critical to many bodily functions and is also known as the "sunshine vitamin". The body makes vitamin D when it is exposed to the sunlight. Vitamin D3 is beneficial for supporting bone health, immune wellness, cardio- vascular function, and cellular metabolism, among others. Mounting research is highlighting the ever-increasing benefits of optimal vitamin D3 levels. Vitamin D3 is known to interact with over 200 different genes and thus plays a crucial regulatory role as a metabolic activator for a multitude of metabolic processes.
By many estimates, at least half of the people in the U.S. and other countries have blood levels of vitamin D considered deficient or insufficient. It's not suprising that vitamin D is one of the best-selling supplements, not to mention that more and more foods are being fortified with it.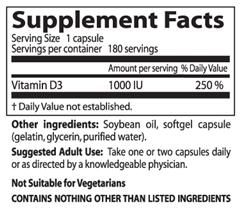 Compare to these:
---
Questions and answers:
Asked on:
January 13, 2016
Question: How much Vitamin D should I take. I am a 40 year old male and live in Alaska where day light is limited in the winter.
A: Growing evidence shows that vitamin D plays a crucial role in disease prevention and optimal health. There are thousands of genes in the body and vitamin D effects nearly all of them including vitamin D receptors. Dr. Robert Heaney MD one of the premier vitamin D researchers in the world concludes that the Recommended Dietary Allowance (RDA) should be 10 times higher than Institute of Medicine recommends (600IU daily). Vitamin D is produced when ultraviolet rays of sunlight strike the skin and trigger vitamin D synthesis. Limited sunlight exposure can dramatically change the levels of vitamin D our body makes. 1,000-2,500 IU of Vitamin D per day are commonly used for those who may not be gaining vitamin D from the sunlight exposure. There is an abundant amount of controversy over how much vitamin D do we really need. Ongoing research and studies continue to conclude, how really important this "sunshine" vitamin is in preventing disease. The best indicator of your vitamin D status is a blood test called 25-hydroxy, vitamin D, which reflects the amount of vitamin D you receive from sunlight in the skin and how much you consume from nutrition and supplements.
Explore More Products